Local Full Fibre Network
Greater Manchester Local Full Fibre Network (LFFN) Programme
In March 2020, we secured world-class digital infrastructure through biggest government full-fibre investment in the UK, through the appointment of Virgin Media Business up to 2,700km of new fibre optic broadband infrastructure will be delivered across the region. The £23.8M Local Full Fibre Networks Programme will connect more than 1,500 public sites across the city-region.
In addition, some sites in Salford and Manchester will see their connectivity upgraded and a further 36 public sites will be connected through the innovative Tameside Cooperative, enhancing Greater Manchester's position as a leading European digital city region.
This is the result of close partnership working between Greater Manchester Combined Authority, Greater Manchester's local authorities, Fire & Rescue Services and Transport for Greater Manchester and is backed by millions of pounds of funding from central government.
This new investment, plus existing local authority investments in digital infrastructure, make this the UK's largest Local Full Fibre Networks Programme and will underpin a wide range of digital transformation and smart city projects.
Social value
The deal also includes a number of bold investments in social value initiatives that support the Digital Blueprint, including:
A commitment from Virgin Media Business to directly create 20 apprenticeships based in Greater Manchester, as well as investing in digital and Science, Technology, Engineering, and Mathematics (STEM) skills for young people
Virgin Media Business supported the Greater Manchester Technology Fund during the Coronavirus pandemic. The tech fund provided learners at risk of digital isolation with the technology and connectivity needed to continue their learning at home while schools and colleges remain closed
Virgin Media Business staff have used annual volunteer days to support people across Greater Manchester – including delivering support packages to residents as part of a local food bank initiative and supporting the safe delivery of coronavirus vaccinations. So far, that volunteering has included:


In Bury, delivering white goods, children's clothing and other donated items to impacted communities throughout Bury. The team have also been safely delivering COVID-19 vaccines to centres across Bury
In Trafford, staff have worked with the Friends of Victoria Park to support maintenance and planting. The team have also been helping reclaim the unused top floor of a suburban multi-storey car park for the use of residents in Trafford. Digital skills training has also taken place at St Johns Centre, Stretford.

Social value benefits will also be achieved through supporting Greater Manchester wide priorities including homelessness, digital inclusion and education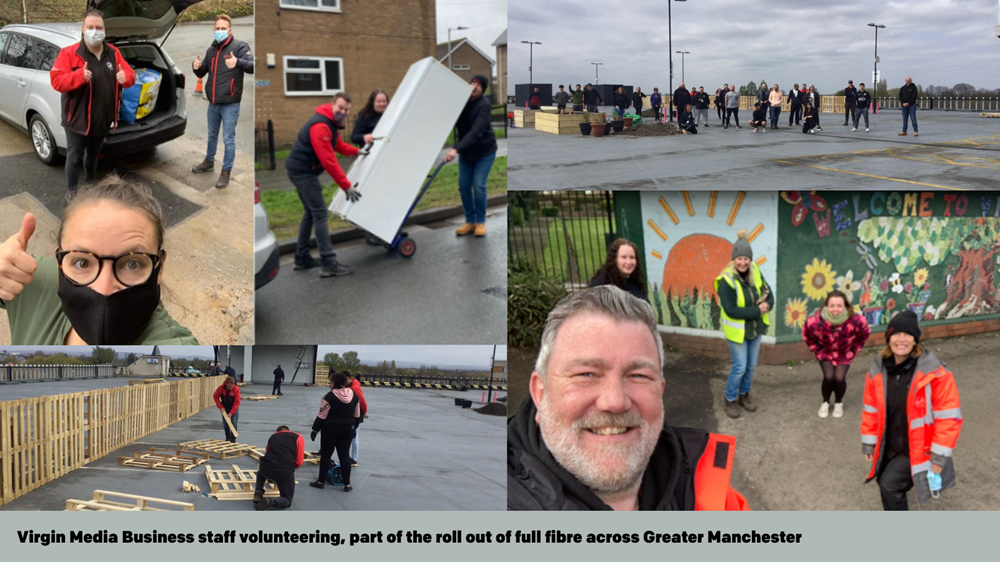 Progress and benefits
Despite the challenges of Covid-19, with work due to start as the UK's first national lockdown was announced, rapid progress has been made and a report released in March 2021 shows significant local economic benefits of the work to date, with £12m of overall local economic value (direct and indirect) for year one. These figures have been generated using the Greater Manchester Forecasting Model, which estimates GVA (gross value added) and the numbers of employees/employment per sector. Read more on how Greater Manchester's digital infrastructure investments have delivered £12m economic benefit in year one.
Good progress continues in delivering the Greater Manchester Local Full Fibre Network with significant completion of the network that supports the sites to be connected.
As of November 2021;
95% of site

surveys, design and wayleave agreements had been completed

Over 1,199km of fibre cable had been installed across the region
1,269 public sector sites had been connected and commissioned
Social value progress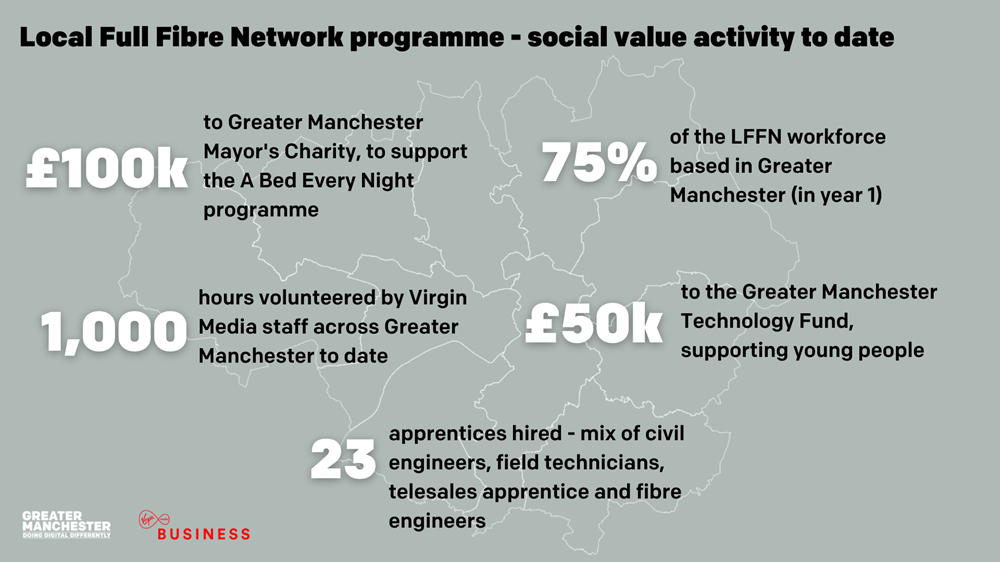 Image description
£100k to Greater Manchester Mayor's Charity to support the A Bed Every Night programme
1,000 hours volunteered by Virgin Media staff across Greater Manchester to date
75% of the LFFN workforce based in Greater Manchester
£50k to the Greater Manchester Technology Fund, supporting young people
23 apprentices hired - mix of civil engingeers, field technicians, telesales apprentice and fibre engingeers
NOTE: Greater Manchester localities can download the LFFN communication toolkit.