LGBTQ+ Adviser and Panel
LGBTQ+ Adviser
Carl Austin-Behan is the LGBTQ+ Adviser to the Mayor of Greater Manchester. Carl was appointed in August 2018. He is a Former Lord Mayor of Manchester and prominent LGBTQ+ activist.
Carl said: "There are at least 215,000 lesbian, gay, bi and trans people in Greater Manchester – that's bigger than the population of Rochdale so it is important that they are represented, and their voices are heard.
"The Mayor has a clear commitment to improving the lives of LGBTQ+ people and reducing inequality across the city-region. We are work together to take positive action for our community."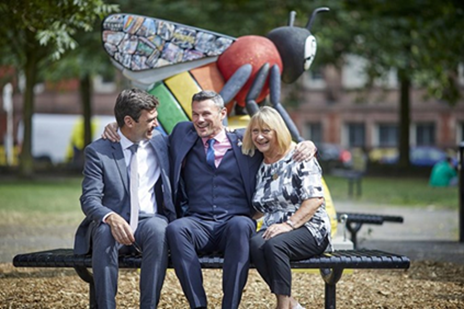 Mayor Andy Burnham, Carl Austin-Behan, and Cllr Brenda Warrington
LGBTQ+ Advisory Panel
About Greater Manchester's equality panels
The Greater Manchester Equality Panels have been established to advise, support and challenge Greater Manchester's political leaders and policy-makers to tackle the discrimination and disadvantage that cause injustice and inequality in society, and champion Greater Manchester as an inclusive city-region. They do this by working together with the GMCA and partners to:
Provide insight into Greater Manchester's diverse communities, enabling political leaders and public bodies to listen and engage in a more targeted and effective way
Communicate key messages to our communities as trusted sources
Codesign policies, programmes and strategies to ensure they work effectively for communities
Support an asset-based approach, highlighting new opportunities (and challenges) for positive collaboration that build on the resources and strengths within our communities
The LGBTQ+ Advisory Panel is one of seven equality panels established and funded by the GMCA. Other equality panels include:
Disabled People's Equality Panel
Faith and Belief Advisory Panel
Older People's Equality Panel
Women and Girls' Equality Panel
Aims of the LGBTQ+ Advisory Panel
The LGBTQ+ Advisory Panel was established in August 2018, and it brings together individuals to advise and support the Mayor and Greater Manchester Combined Authority to tackle the inequalities faced by the LGBTQ+ community within Greater Manchester. In particular, it aims to:
Engage the LGBTQ+ community in delivering the priorities of the Greater Manchester Strategy, in particular the ambition to build strong, inclusive communities where people feel safe, aligning with the work of the Mayor in his role as Police and Crime Commissioner for Greater Manchester
Ensure that the city-region has strong and diverse leadership
Improve LGBTQ+ awareness
Deliver the ambitions of the Greater Manchester LGBT Action Plan
Membership
The LGBTQ+ Equality Panel was formed after an open application process. There are currently 15 members:
Brian Boag (they/them)
Jack Coffin (he/him)
Natalie Craig (she/her)
Rhys Dower (he/him)
Jax Effiong (she/her)
Patrick Ettenes (he/she)
Emma Galley (she/her)
Abi Giles (she/her)
Jeremy Hoad (he/him)
Harvey Kennedy-Pitt (he/him)
Amraze Khan (he/him)
Sian Lambert (she/her)
Joe Nellist (he/him)
Pauline Smith (she/her)
Aiden Taylor-Dickinson (he/him)
Contact the LGBTQ+ Panel
The LGBTQ+ Panel is facilitated by the LGBT Foundation.  
Contact the LGBTQ+ Panel by emailing LGBTEqualityPanel@lgbt.foundation
Key documents
Greater Manchester LGBT Action Plan (PDF, 325KB)
LGBTQ+ Equality Panel Annual Report 2020/2021 (PDF, 239KB)
LGBTQ+ Adviser and Panel - Terms of Reference - February 2021 (PDF, 263KB)