Safer Stronger
GMCA and GMP pledge to do more to tackle retail crime
With nearly 1 in 10 retail workers in the UK reporting that they have been physically assaulted at work and 9 in 10 saying that they had been verbally assaulted in the past year, Greater Manchester Combined Authority (GMCA) and Greater Manchester Police (GMP), have pledged to do more to tackle retail crime and keep workers safe.

Despite shop workers being hailed for the essential role they played during the pandemic, in the first wave of restrictions, abuse against retail workers doubled.

Deputy Mayor Bev Hughes attended a visit to a local CO-OP store with GMP in support of the national #ShopKind campaign, and spoke to some of the shops' workers to gain an insight from their experiences.
Bev Hughes, Greater Manchester's Deputy Mayor for Policing, Crime, Criminal Justice and Fire: "It is unacceptable that so many shopworkers are going to work in fear of being abused or even physically assaulted. I know the vast majority of people of Greater Manchester would not dream of abusing shop workers but nonetheless there are too many who do. I urge everyone to think about being kind in shops, and show our appreciation, particularly as we reach the busy Christmas period.

"In Greater Manchester we will come down heavily on crimes against retail staff. I will also be supporting the push for government to legislate to protect shopworkers from violence and abuse, with tougher penalties for those who assault workers. Retail staff have a crucial role in our communities- we saw this illustrated during the pandemic when they went out to work every day while others stayed at home - and that role must be valued and respected; they deserve and will receive the full protection of the law."
At the event, GMP unveiled its new retail crime action plan. The plan sets out how the force will be raising the standard of service its delivers to local retail businesses across Greater Manchester in order to increase the confidence the sector has in the police, and target offenders.

GMP's Superintendent Ben Ewart, said: "It is unacceptable that anyone should have to come to work and have to face any form of abuse. It was demonstrated to us all throughout the pandemic what a crucial role retail workers have in our communities, and that role must be valued and respected.

"GMP would like to reaffirm its commitment to retailers and work with both independent shops and big supermarkets to reduce the number of incidents of retail crime.

"The impact that an incident of abuse or assault can have on a worker cannot be underestimated. As the location of the incident is the victims place of work, they will often have to continue to go back to the scene day after day, which can have devastating effects on their wellbeing and mental health.

"I hope that our pledge to support the national #ShopKind campaign instils confidence in all of the retail workers across Greater Manchester that GMP will not accept crime against them and will be taking appropriate action to ensure that this issue is tackled."

The force recognises that incidents of retail crime are often underreported and that often incidents occur in repeat locations or by repeat offenders. It has established a Retail Crime Steering Group made up of large and small retailers, victims services, the Community Safety Partnership and GMCA. Work has already begun with this group, to develop a new pilot scheme which aim is to make reporting to GMP quicker and more simple for retailers, as well as assist retailers in steps they can take to protect themselves from crime. Police presence within the retail sector will focus on hotspot locations and target prolific offenders.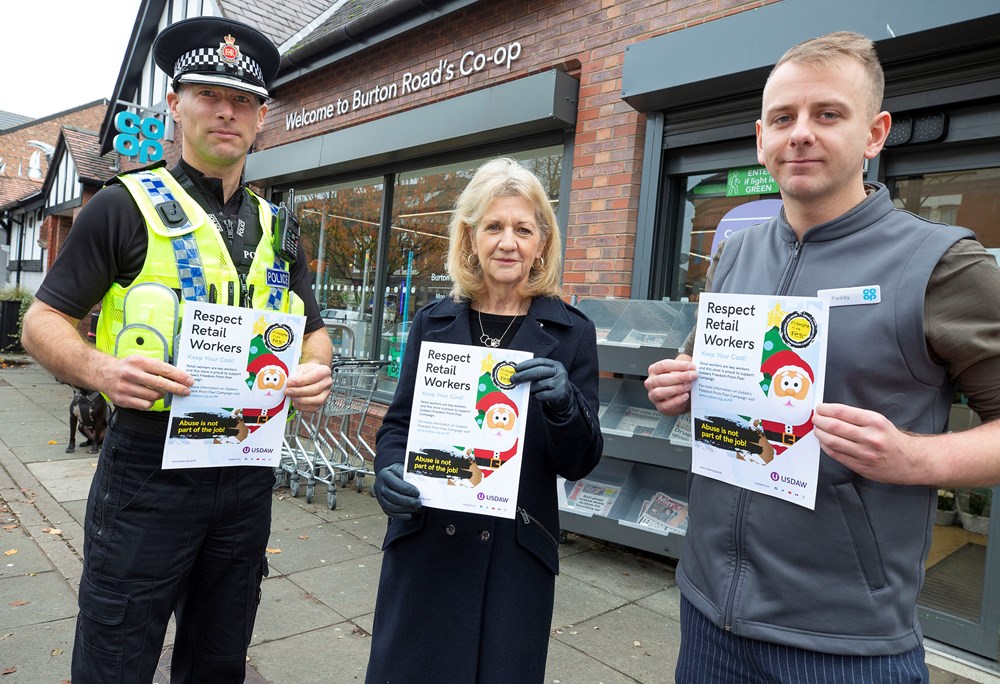 ---
Article Published: 17/11/2021 12:17 PM