Young People Digital Work and Skills
BLOG: Diane Modahl MBE - How we are supporting Young People in Greater Manchester
How we are supporting Young People In Greater Manchester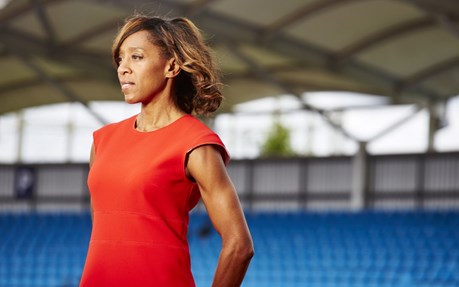 Diane Modahl MBE is a four-time Olympian and a Commonwealth Games gold medallist. In 1990 Diane became the Commonwealth Games Champion, breaking the Commonwealth Games record in the process. She competed in four successive Olympic Games, four World Championships, four European Championships and four Commonwealth Games.  Diane was unbeaten by any British athlete over her specialist 800m distance for six consecutive seasons, winning gold, silver and bronze medals at the Commonwealth and a European Cup title.
Since retiring from being a competitive athlete Diane has dedicated her time to supporting young people, co-Founding the Diane Modahl Sports Foundation with her Olympic coach husband, Vicente Modahl, in 2010. The Foundation specialises in elevating sport as a catalyst for change, working with young people from the top 20% areas of deprivation across the North West.  Their mission is simple.  DMSF engage, educate and empower young people, particularly those at risk of not achieving their full potential due to circumstances which are out of their control, they do this by using sport as a catalyst for change and using the power of sport to develop character and positive behaviours to help them succeed in life.
In June 2020 the Mayor of Greater Manchester, Andy Burnham, announced his appointment of Diane Modahl MBE as Chair of the new Youth Task Force for Greater Manchester. More recently, Diane was asked by the Mayor to take a lead on the Greater Manchester Tech Fund.
By Diane Modahl MBE
In Greater Manchester, we believe that our young people deserve every chance to fulfil their potential. In 2020, I was honoured to accept the opportunity to Chair the Youth Task Force for Greater Manchester to drive forward the Young Persons Guarantee and make sure we did our utmost to put young people at the centre of the solutions to protect their futures.
The Young Person's Guarantee was established by the Mayor in response to the ongoing struggles the coronavirus pandemic was having on young people across Greater Manchester. To gain an understanding of the issues that mattered most to local young people, a consultation was carried out . During the consultation young people told us they needed better internet access and more support for those who are digitally excluded to prevent them becoming disconnected and falling behind in their education.
The Greater Manchester Technology Fund
When the Mayor launched phase two of the Greater Manchester Tech Fund last month, an emergency response to the schools and colleges once again being closed and having been asked by Andy to lead the YPG for another 12 months, it made perfect sense for me and my team to lead on this latest drive to businesses to support our most disadvantaged young people. The Fund supports digitally-excluded young people with the technology and connectivity needed to continue their learning at home while schools and colleges remain closed.
Despite the National Government Programme of support, GMCA estimates that 15,000-20,000 young people will still be left behind, unable to continue their learning remotely. Young people themselves have told us that having the tools to continue their education and positively engage in their communities is integral to them during these challenging times.
M.E.N Digital Donation Day 
One of my highlights so far has definitely been the M.E.N Digital Donation Day. It was a pleasure to be part of the day and seeing Greater Manchester's spirit sparked once again, as we came together to support our most vulnerable residents.
On Friday 22nd January, Greater Manchester Combined Authority (GMCA) teamed up with the Manchester Evening News and Business in the Community (BITC) to hold a Digital Donation Day to encourage businesses and individuals to support the Greater Manchester Technology Fund.
During the day I got the opportunity to meet and interview brilliantly passionate Head Teacher at Newman College in Oldham, Glyn Potts as part of a Facebook Live session. Glyn shared his and his students experiences during this pandemic and highlighted the huge impact digital exclusion can have on not only our young people but their whole family. You can watch the video back here.
We received donations from a wide variety of organisations including Boohoo, Ao, Beechfield Brands, Irwell Insurance Company to name just a few! We we're delighted to announce that the Digital Donation Day raised a total of £188,600 through the donations of funds, new tech and data packages and used device donations to help digitally excluded young people across Greater Manchester.
I'd like to take this opportunity to say a huge thank you to all the organisations and individuals who have come forward to support the Greater Manchester Tech Fund so far.
Your help has already enabled us to help our young people, In Phase one of the fund we were able to distribute 567 kit bundles to young learners and need and we have already begun getting kit out as part of Phase two of the fund. With each donation we are getting closer to closing the gap and preventing our young learners from becoming increasingly marginalised and at a disadvantage to their peers.
We still have a way to go, which is why we are asking anyone who can support our digitally excluded young people, to do so in any way they can.
Get involved and support the GM Tech Fund
We are appealing to businesses help us support young people to thrive by pledging to:
Make a financial donation to enable us to purchase devices and data connectivity packages 

Donate new devices particularly laptops, Chromebooks and iPads 

Donate data packages, portable hotspots, dongles and other connectivity devices

Donate pre-loved working devices under 8 years old which will be repurposed by Business in the Community 

to support a young person in schools or colleges in GM.
Find out more about the GM Tech Fund
---
Article Published: 04/02/2021 18:25 PM