25/10/2018
Greater Manchester will not be able to tackle transport challenges across the city-region unless it is given similar powers to London.
'Take control of our transport' campaign seeks to mobilise public support for basic powers over the day-to-day running of the Greater Manchester transport system, which will help to clean up our air and end road and rail chaos
Government must also urgently intervene to end the ongoing crisis on the rail network by delivering a clear ultimatum to the train operators
MAYOR Andy Burnham has today said that Greater Manchester will not be able to tackle transport challenges across the city-region - and clean up polluted air - unless it is given similar day-to-day powers over the running of transport as London.
He has also called on the Government to issue a clear ultimatum to the train operators, similar to the one recently issued to Govia Thameslink.
Eighteen months on from his election, the Mayor has said that the city-region's growth is exposing an outdated, fragmented and unaccountable transport system. The need to expand capacity of crucial road junctions, combined with the collapse of public confidence in rail services, has created a perfect storm which is causing real disruption to people's lives and livelihoods.  
The Government has issued a deadline to Greater Manchester to deliver a Clean Air Plan by the end of the year. The Mayor says that Greater Manchester is ready to face up to that challenge - but that any plan will be undeliverable and unsuccessful without devolved powers over a range of areas including roads, rail, buses and taxis. 
Andy Burnham is asking people across Greater Manchester to sign up to the new 'Take control of our Transport' campaign, which makes a series of direct calls on the Government, including:
Greater power over the running of the local and strategic road network, including: oversight of Highways England to allow coordination of roadworks; joint planning powers; the ability to introduce civil enforcement of yellow box junctions; and a London-style lane rental scheme for roadworks by utility companies.
Greater power over the running of the rail network, including giving Transport for the North full oversight of the rail franchises and Transport for Greater Manchester (TfGM) devolved control of all rail stations.
The Government must pass all enabling legislation for the Bus Services Act before the end of March 2019, so Greater Manchester can reform its bus system.
The ability to regulate private hire drivers, vehicles and operators, repealing the provision that allows drivers with a license granted outside Greater Manchester to work in any local area.
The campaign also calls for these powers to be underpinned by a major investment programme in Greater Manchester's infrastructure between now and 2025, as recommended by the National Infrastructure Commission.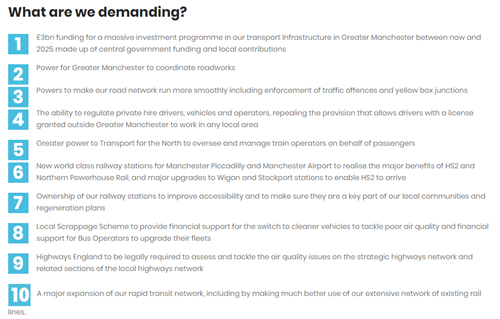 The Mayor's Congestion Deal, published in March, laid out plans for tackling congestion together. Congestion is a major issue for the city-region, costing an estimated £1.3bn annually. 
A series of initiatives proposed in the Congestion Deal have now been developed by Transport for Greater Manchester into viable proposals and will be introduced imminently. These include: 
A real-time GPS traffic and travel service:  

 

TfGM will today launch a new digital service that will update sat-navs and other real time navigation services allowing better real-time communication. For example, if there was a burst water main or other emergency road works on Rochdale Road, TfGM would be able to flag that immediately as an incident. That information would go directly to sat-navs, so that drivers in the area could switch to alternative routes.  The service will be run by TfGM's control centre – which operates 24 hours a day seven days a week – and will have the ability to improve thousands of journeys in real-time, reducing congestion.  The system can also be used to monitor congestion around roadworks and events to assess the impact is and allow better future planning.
An 'Early Bird' Metrolink offer:  TfGM will pilot a new cut-price Metrolink offer – set to launch in the next few weeks – to encourage those who drive to work to switch the tram instead. The offer will be available for those travelling before the morning peak so as to increase passenger numbers but without adding to overcrowding during rush hour.
Six-minute service on Metrolink's Ashton Line: From the end of January 2019, Metrolink services from Ashton will operate every six minutes offering even more frequent services into the city centre and beyond. These new services will run between approximately 7am and 8pm Monday to Saturday.
Additional buses to operate guided busway services: Two additional buses will be added to the Leigh to Ellenbrook guided busway to Manchester city centre from Monday 29 October during the busy morning and the return journey during evening peak periods. The move is in addition to the V3 service which was introduced in September to provide more travel options for motorists to park and ride from the A580.
Andy Burnham has also asked TfGM to initiate a further series of urgent reviews, including:
Management of transport arrangements on mid-week match nights at Old Trafford. The Mayor has asked TfGM to work with GMP, local highways team and transport operators to develop proposals for better management of the system.
Parking capacity at key locations including Metrolink stops, with a view to expanding it.

 

The Mayor has asked for proposals on developing more branded Park-and-Ride Services as seen in other cities.
All non-essential roadworks across the region to identify how to complete works as quickly as possible by changing working hours and exploring innovative ways of working to minimise disruption. This will include working with local highways teams to conduct an assessment of key routes to ensure that travel is as easy as possible for commuters. 
The Mayor has also called on the Government to play its part in sorting out the chaos by taking decisive action to end the rail crisis.
The last two weeks have seen another deterioration in the performance of Northern and TransPennine Express. On Monday this week, just 34% of TransPennine services arrived on time. The most recent data shows that both operators are performing at a level below that of Govia Thameslink which, unlike its Northern counterparts, has received a clear ultimatum from the Transport Secretary. Andy Burnham will today call on him to show the same decisive approach in the North as he is in London.
Finally, the Mayor believes employers could play a significant part in easing pressure on the system. 
Many companies in Greater Manchester operate a traditional 9-5 working day which concentrates traffic at certain hours. To help avoid that, over 30 businesses have introduced a flexible start time for staff, or in the process of doing so, including: Kelloggs, Salford University, Talk Talk, Manchester Airport Group and Walker Sime. Additionally, nearly 60 employers are signed up to Metrolink's Corporate Scheme to get a further 10% off already heavily discounted tickets on the tram.
The Greater Manchester Chamber of Commerce has agreed to work with the Mayor on a campaign to persuade more Greater Manchester based companies to offer a flexible start-time to the working day. 
Mayor of Greater Manchester, Andy Burnham said: "Greater Manchester is a growing city-region on the world stage but our transport network and infrastructure is holding us back. We lack basic powers over the day to day running of our transport system.
"I fully understand the frustration people feel at the delays and disruption we are currently experiencing. I feel it too, because I simply do not have enough powers at my disposal to get a grip on things. 
"That is why I am launching a public campaign calling on the Government to give us the powers to let us create the transport network we need. The 'Take Control of our Transport' campaign offers a chance to channel the frustration we all feel at the current problem and turn it into a loud call for the change we need.
"I am ready to be held to account to get Greater Manchester moving and to clean up our air. But I can't do it without more basic control over the running of our system.
"But I do have some power to influence things and I accept the need for Greater Manchester to raise its own game when it comes to tackling congestion. The measures I am announcing today will not solve things but are intended to make it easier for people to change their commute and avoid the traffic. 
"There is one thing that could make a major difference now and that is decisive action to reverse the crisis of confidence in our rail services, which has forced so many people to abandon it for their cars. I am calling on the Transport Secretary to give commuters in the North the same focus as those in the London and the South. He needs to deliver the same ultimatum to our failing rail operators as he recently did to Thameslink." 
---
Article Published: 14/12/2018 14:19 PM