26/11/2018
It's been a month of incredibly hard work...
A Bed Every Night is our city-region's commitment to deliver a bed plus targeted support for every person sleeping rough in Greater Manchester who wants and needs one every night of the winter. It launched on 1 November and I'm very pleased to be able to tell you that the hard work is starting to bear fruit.
It's still early days – we're not yet a month into what is the most ambitious and forward-thinking approach to tackling rough sleeping this winter in the whole of the United Kingdom. It's not been perfect and more beds and better provision continues to come online all the time. But the system is in place, people are finding safe and secure accommodation and lives are being saved and changed.
I want to take time to thank each and every one of you involved in the delivery of A Bed Every Night for your hard work, resolve and commitment to making this a success. We do things differently in Greater Manchester and we are making a success of our promise. There is more to do, but we are on track to make a significant and sustainable difference. Thank you.
A Bed Every Night
On one single night last week 172 people were safely in beds in A Bed Every Night-funded accommodation spread right across our city-region, safe from the winter weather and enjoying hot food, clean sheets and targeted support.
The most recent figures demonstrate a steady increase in the people inside safe and warm accommodation across each of our 10 boroughs during the course of this month. Since 1 November 278 people have been helped off the streets.
I'm regularly asked how people can let their local council know when they see someone sleeping rough. Here are the contact details for all 10 Greater Manchester boroughs: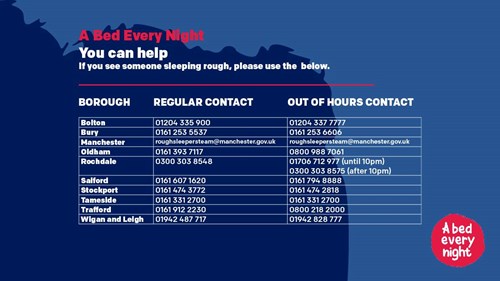 Funds raised
We know we can't achieve our aims with public money alone. We are working hard to mobilise the contributions of all sectors of Greater Manchester society - public, private, voluntary and faith – all as part of the same strategy.
I am so grateful to all the people who have contributed to the Mayor's Homelessness Fund, which has so far raised an impressive £147,530.
We have donated £95,405 to 11 organisations at the sharp end of the crisis, a dozen groups which provide specialist support.
These are:
Coffee4Craig
EarlyBreak
Street Support Network
Emmaus Bolton
SSG
Wellspring
Broughton House Trust
Bolton Young Persons Housing
Justlife
Booth Centre
Streetwise Opera
The remaining £52,125 is to be transferred into a fund which is now a registered charity, with all monies going towards A Bed Every Night.
We need every penny we can get to maximise the success of A Bed Every Night and I hope you will consider supporting it or Big Change Manchester.
In addition, big business is swinging in to support our efforts. In recent week I have met with leaders from some of our region's top businesses at breakfast and dinner meetings and I hope to have something very exciting to announce soon.
Mayor of Greater Manchester Charity
As announced in last month's blog, the Mayor's Homelessness Fund is now dedicated to supporting A Bed Every Night right through to 31 March. Previously the Fund has allocated financial support to a wide range of innovative and important projects supporting efforts to tackle homelessness and rough sleeping in Greater Manchester.
In a further development, the Greater Manchester Combined Authority (GMCA) has recently had charitable status granted for the Mayor of Greater Manchester Charity (registration #1180418). Soon we will work with a local not-for-profit organisation who will enable people to donate to the Charity and, crucially, we will also reap the benefit of Gift Aid.
It has taken a concerted effort from colleagues at the Combined Authority to formalise the Charity's status, but we will very soon be in a much more streamlined position to receive donations and disperse funds to areas of A Bed Every Night that most need it.
Housing First and the Social Impact Bond
It is so important to reiterate the point that A Bed Every Night is not a sticking plaster but the first stage of a new systematic approach to ending the scourge that is homelessness and rough sleeping in Greater Manchester. We are aiming to provide people with a supported journey away from the streets.
In addition to all those currently in A Bed Every Night accommodation, the latest figures show that more than 135 people have found secure accommodation through the Social Impact Bond (SIB), which is a significant number of people helped off the street.
Last week the GMCA met with two potential providers of our ground-breaking Housing First pilot – both made very strong cases for how their work will positively influence the lives of so many of our people who need support so urgently.
Housing First is powered by £8 million of Government funding over the next three years and will enable the provision of a further 500 homes for people with complex needs, including those previously sleeping rough. Accommodation is expected to open from February.
Anthony and Tia
I want to leave you with this – it's a very touching video of a gentleman called Anthony and his dog Tia. He lives in Tameside in his own accommodation with regular specialist support, which is fantastic when you consider that a matter of months ago he was sleeping in a tent on the streets of our city-region.
His recovery is remarkable, and made possible through his own grit and determination and the support he has received from our partners at the GM Homes Partnership and the charity Shelter through the SIB. It's an excellent example of how organisations are working together in an unprecedented way across Greater Manchester to make a real and sustainable different.
Please watch Anthony's video, which might bring a tear to your eye. And I'll leave you with his words, which I think powerfully illustrate what change is possible:
"Everybody's got a future. You've got to be positive with it, I think. Because it will come eventually to everybody, you know what I mean?"
---
Article Published: 14/12/2018 14:45 PM