Ageing Equality
New photography competition to challenge stereotypes around older people in Greater Manchester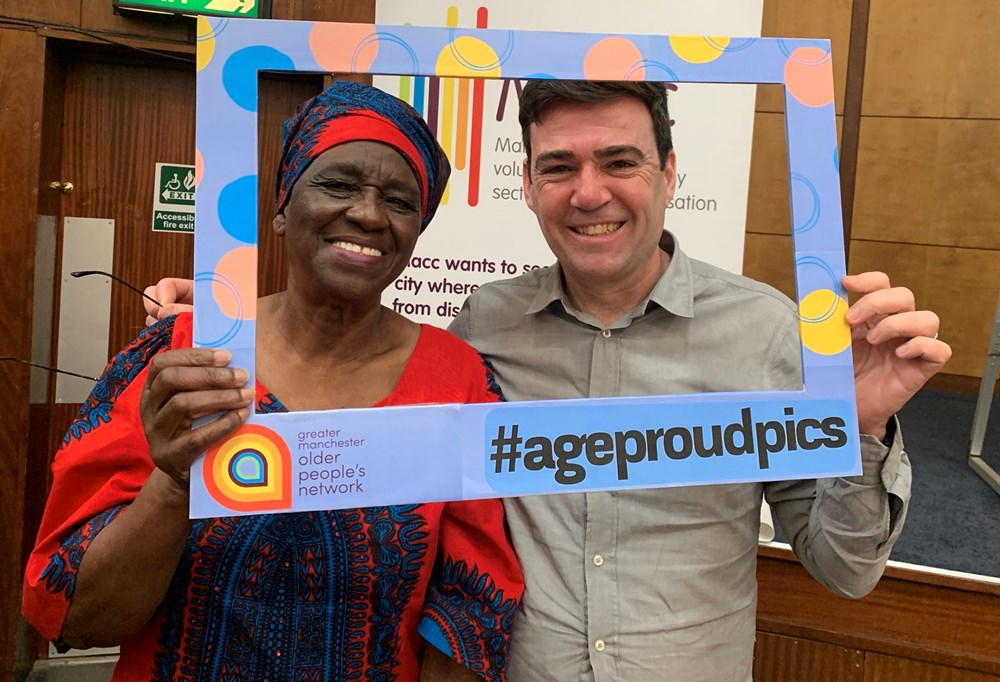 A NEW photography competition has bee
n launched in Greater Manchester to challenge stereotypes around growing older.
Greater Manchester Older People's Network (GMOPN) has launched the Age Proud competition, which is designed to directly challenge the way people over the age of 50 are talked about and to generate a bank of positive and realistic images that can be used by media outlets, publications and local authorities.
The winning images will also be part of a touring exhibition in Greater Manchester later in the year.
The project has been designed and driven by members of the GMOPN, who wanted to do something about the way they saw themselves represented as either frail and sick or sky diving with friends; both extremes that the majority of older people do not relate to.
Age Proud has been funded as part of the Great Place project at Greater Manchester Combined Authority (GMCA), which aims to put culture and creativity at the heart of strategy delivery in the city-region.
Pauline Smith, member of Greater Manchester Older People's Network said: "This is a great opportunity to change the perceptions about older people. We can show younger people that we still have a lot to contribute to society as we become an increasing percentage of the population. I'm hoping for more understanding and empathy towards older people across Greater Manchester."
The competition was launched by Mayor of Greater Manchester Andy Burnham on Thursday, February 20 at the latest meeting of the GMOPN.
Mayor of Greater Manchester Andy Burnham said: "In Greater Manchester we have always had a focus on doing ageing differently as we work to make this one of the best places in the world to grow older.
"We are working to create a new positive narrative around ageing. Our older people live varied and full lives, contributing much to Greater Manchester. This competition and the images it produces will help us challenge stereotypes and paint a realistic and positive picture of older people."
The competition has six themes – New Beginnings, Passing it On, Journeys, Making a Difference, Together and Being Yourself.
The competition is open to anyone in Greater Manchester of any age, professional or amateur and participants can submit their entries until April 2, 2020 at http://bit.ly/Ageproudpics
Winners from each category will receive a photography masterclass from photographer Simon Buckley and see their images displayed as part of the touring exhibition around Greater Manchester.
Greater Manchester's Lead Member for Ageing, Cllr Brenda Warrington, said: "We are all getting older, and rightly we all want to be represented in an accurate and positive way.
"This competition not only gives older people a chance to address, head on, some of the prejudices older people face on a day-to-day basis but also to get creative while they are doing it."
Competition Details
The competition will be open from February 20 2020 until the April 2 2020.
There will be six finalists (one for each theme)
The themes are:
New Beginnings
Passing it on
Journeys
Making a difference
Together
Being Yourself
Please visit the competition web pages at http://bit.ly/Ageproudpics for a copy of the rules. You can also download the consent form you will need to fill in for any people featured in your image.
Entries can be submitted on the site until the closing date, 2nd April 2020. The shortlist will be announced on the website on 6th May 2020.
The six finalists and overall winner will be announced at the exhibition opening in central Manchester, the  weekend of 16th May 2020.
The 6 finalists will win:
A photography masterclass with NotQuiteLight photographer Simon Buckley
The winning image will appear in a GM Ageing Hub publication in 2020
Your image printed out and framed
One overall winner will win a bundle of photographic supplies.
---
Article Published: 21/02/2020 13:35 PM