covid19 The Mayor
Statement from the Mayor following talks with the Government on Tier 3 restrictions
Statement from the Mayor of Greater Manchester, Andy Burnham, following the conclusion of talks with the Government on Tier 3 restrictions for the city-region
People here in Greater Manchester have been living under restrictions for three months, and they have taken a heavy toll on people. They are struggling. Businesses are on the brink of closure.
To accept any further restrictions in these circumstances would be certain to increase levels of poverty, homelessness, and hardship within our city-region.
Let's be clear who is most affected by a Tier 3 lockdown: it is people working in pubs, in bookies, driving taxis. People too often forgotten by those in power.
But this city-region has never walked on by, and it never will.
At the start of these negotiations, together with the Leaders of our councils, we made a commitment to all of those people that we would look out for them and stand up for what is right.
It cannot be right to close people's place of work, to shut somebody's business, without giving them proper support so they can look after themselves, their families, through a very challenging winter that lies ahead of us.
We have been clear throughout: we could only accept further restrictions with full financial support.
We put forward a costed package of measures - a detailed package of measures - but in particular to support people on the lowest incomes and people who are self-employed. Fifteen million pounds a month was what we costed was needed to support people across the 10 boroughs that make up Greater Manchester.
These would be people who would need support to top up the furlough to 80%, recognising people can't live on two thirds of their wages; people who are self-employed, also with 80% of their income, so they could make ends meet. That was the commitment that we made.
This would cost £90m to the end of the financial year. In negotiations with the Government we were prepared to reduce our request to £75 million, and we even were prepared to go even lower - £65 million as the bare minimum - to prevent a winter of real hardship here. That is what we believe we needed to prevent poverty. To prevent hardship. To prevent homelessness.
Those were the figures that we had: not what we wanted, what we needed to prevent all of those things happening. But the Government refused to accept this, and at 2 o'clock today they walked away from negotiations.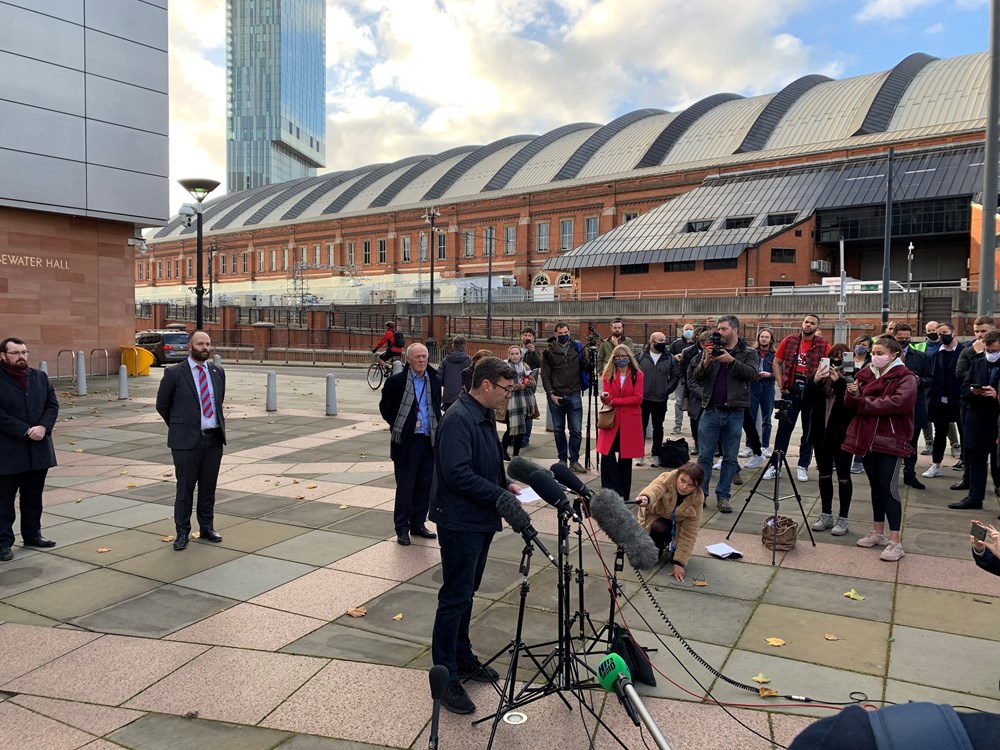 In summary: at no point today were we offered enough to protect the poorest people in our communities through the punishing reality of the winter to come.
Even now I am still willing to do a deal, but it cannot be on the terms that the Government offered today, because on those terms I could not meet the commitments I made to people on the lowest incomes, to people who are self-employed, to the freelancers in this city who need our support. I could not do it on those terms.
I don't think it is right to ask people to go into a lockdown, to accept further changes within their lives, without supporting them through all of that and what it entails. It can't be right to do that.
How can we carry the public with us through this pandemic if we are forcing them to lose their income, their place of work, without supporting them through that? How is that going to keep people with what's being done here to fight this virus?
Finally: I don't believe we can proceed as a country on this basis through the pandemic - by grinding communities down through punishing financial negotiations.
We are asking a lot of the public at this difficult time, and we need to carry them with us, not crush their spirit.
We need national unity, and that is why I now look to Parliament to intervene and make a judgement on a fair financial framework for Tier 3 lockdowns. Because make no mistake: this was not just about Greater Manchester.
All parts of the country may find themselves in a Tier 3 lockdown at some point this winter, and what we need to be able to say to those people in those areas is that they have a guarantee that they can plan for, should they need it: 80% of their wages or their income.
That is the least that we owe to those people. The money that businesses will be able to rely on to survive. We should be setting out that fair financial framework.
I want to finish by speaking directly to the people of Greater Manchester, because I know they've felt a lot of uncertainty over the last week as these negotiations have played out.
We know this is going to be a difficult time for you, but together with the Leaders behind me and all of the Leaders of Greater Manchester, we took this stand for you.
We will carry on fighting for you, we will carry on putting your health first. But health is more than the virus. We will support people's health in the broadest possible sense.
Tough days lie ahead. Please, everybody, observe the law at all times and follow the public health advice.
Above all else, please look out for each other, as I know you will.
---
Article Published: 20/10/2020 19:34 PM