November 2020 blog from Chair of Youth Task Force
Hello everyone, I hope you are all keeping well as we enter the second national lockdown. 
Since my last written post we held our first four Task Force meetings, with Staying Well, Making Effective Transitions and Reducing Economic Inequalities groups meeting on October 14, and the Keeping Well group meeting on October 15. Thanks again to everyone who took part in these. 
During the meetings, Task Force members discussed the priorities that young people have asked us to consider through the Young Person's Guarantee and the improvements that could be made to the current offer in the short term, such as commitments they can go away and develop in their organisation or with other Task Force members. They also discussed how they can amplify existing opportunities they have through GMACS and other communication channels for young people. 
Task Force members are promoting their involvement and support of the Young Person's Guarantee and calling on their networks to share their commitments. 
Commitments
We are continuing our mission in drumming up tangible commitments to support the Young Person's Guarantee – so if you are part of an organisation or business in Greater Manchester and feel you can get involved and help young people across the city-region we want to hear from you today. 
Head over to the 'commitments' page on GMCA's website for further information and instructions of what you need to do. 
Youth Advisory Group (YAG) 
Since my last blog update we have been having regular catch ups with our YAG members, with Chloe S and Zara sharing blog posts.  
Thanks again to all of our young members who are really helping us to shape the Guarantee and have been busy providing vital feedback and input on all kinds of things such as the refresh of the GMACS website – which is being developed to include everything relating to the Young Person's Guarantee to ensure young people have everything they want and need in one place. 
Creative Care Kits 
We are excited to share the news that the second edition Creative Care Kit for young people is here, for 13-20-year-olds. The latest kit builds on the first version with more focus on the kinds of things young people can do to get their voices heard, make changes for the better in their communities, and to find and act on their own passions.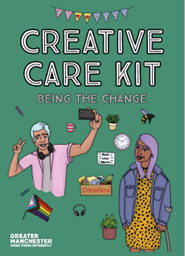 The kit is designed for those who face challenges accessing online resources and who need extra support at the moment, and features a number of young people including our very own Youth Advisory Group member, Oliva, while supporting the work and some key priorities of the Youth Task Force – especially relating to the Keeping Connected and Staying Well groups. 
You can find the new kit on GMCA's website. 
Newsletter and video update 
Following the launch of the YPG Newsletter in September we are now up to edition number four of our bulletin – if you missed it you can catch up now by heading to the 'newsletters' section of GMCA's website.  
You can sign up now to receive the newsletter if you are aged 13 or over.  
If you missed my latest video update you can watch now on YouTube 
What next?
Week commencing November 9 will see us host the second round of Task Force meetings when members will be focusing on exploring and developing a set of recommendations to improve the current offer for young people. This will then be presented to the Mayor of Greater Manchester, Andy Burnham, by the Task Force and Youth Advisory Group. 
Thank you for reading my post - please get in touch if you have any questions or comments: taskforce@greatermanchester-ca.gov.uk.  
Diane Modahl, Chair of Greater Manchester's Youth Task Force