Digital Digital inclusion Digital skills Digital exclusion
Fixing the digital divide in Greater Manchester and beyond!
Happy to return as keynote sponsor of the Digital City Festival once again, Greater Manchester Combined Authority brought together an expert panel to host "Fixing the digital divide in Greater Manchester and beyond."
The panel discussed how the pandemic has been the catalyst for some of the fastest digital transformations ever seen, but that we must ensure our people remain at the heart of what we do. Citizens and businesses should be supported to overcome digital exclusion and we must ensure everyone has equality of access to services. Access to the digital world should be a basic human right, everyone whatever their age, location, or situation, should be able to benefit from the opportunities digital brings.
The panel included moderator Annette Joseph, Founder, Diverse & Equal, Adam Micklethwaite Director of Digital Social Inclusion, Good Things Foundation, Diane Modahl MBE, Co-founder and Chief Executive Diane Modahl Sports Foundation, Antonia Dunn, Operations Manager, Inspiring Communities Together, Jan Collins, Head of B2B2C, TalkTalk and Chris Ashworth, Head of Public Benefit, Nominet.
Creating an equitable society
Covid-19 has illustrated that digital inclusion should now be considered a human right and connectivity as a basic utility.  
In October 2020 the Digital Inclusion Agenda for Change for Greater Manchester was launched, with a bold ambition to make Greater Manchester a 100% digitally enabled city region. To deliver the ambition to become a 100% digitally enabled city region, the Greater Manchester Digital Inclusion Taskforce was set up in December 2020.
The Digital Inclusion Taskforce brings together industry, VCSC sector, public sector partners, local government, schools and health to fix the digital divide across Greater Manchester.
The taskforce will focus and shape an action plan to address the interrelated barriers to digital inclusion and the digital divide such as connectivity, accessibility, affordability, skills, motivation and confidence.
Attending the event via video link was Tommy Kirkwood, Digital Lead for Greater Manchester Youth Combined Authority who gave an overview of the challenges our young people have faced during the pandemic, in relation to digital inclusion.
In June 2020, Diane Modahl was appointed as Chair of the new Youth Task Force – which was set up to help develop a Young Person's Guarantee in Greater Manchester. The Guarantee aims to protect and progress young people's futures, particularly around securing future prosperity.
And since June 2020, GMCA have been working with organisations across Greater Manchester who have joined together to commit support for young people following the devastating impacts of Covid-19, with pledges including funded work placements, free data packages and travel support.
We know that listening to our people is key. How do we know what action to take if we don't understand the challenge?
It cannot be right that some of our people are living without the ability to access essential services online, when shops closing during the pandemic people were unable to do food shopping online, unable to find alternative ways to collect medicines etc, unable to speak to friends and family – removing those challenges is truly transformational.
Digital inclusion is often seen as a background issue, it is harder to spot but as organisations our plans should be just as ambitious as other areas, such as economy and recovery.
It is clear we need all sectors to work together on this. Change of this scale won't happen overnight, investment and support are key and for digital inclusion resource and capacity is key.
A social mobility issue
The pandemic has highlighted the scale of the issue, but it has always been there and is not going away. We've been given a good opportunity to act on this additional engagement, build on that momentum and energy and bring these challenges to the forefront.
Collaboration is key. All initiatives are welcome but together we can have a bigger impact. Data and learning are integral to that. Digital inclusion is a foundational issue to so many other life changes and opportunities. How do we gather and share that learning and passion?
During 2020, TalkTalk worked with DWP to understand and address connectivity issues for jobseekers with no access to connectivity at home, people that may have been using connectivity via Jobcentres and local libraries for example, who during lockdown were unable to do so. This pilot originally starting Cheshire has now been extended to Greater Manchester and tech scheme has received positive feedback, not only on giving otherwise digital excluded people the access to the internet they required but also the social connections made through this scheme.
TalkTalk also worked with GMCA and DWP, to signpost this scheme via schools meaning this uncapped offer became access for the whole home, not just individuals. Like other initiatives, it is clear that connectivity and access are only one part of the problem, digital skills, confidence and social isolation is a huge issue.
In Salford, Tech and Tea was commissioned through Public Health England to deliver a programme of informal digital skills development programmes for residents over the age of 65 years, alongside helping individuals identify ways in which they can improve their own health and wellbeing.  Participants are also offered access to affordable technology once they have completed the course.
Accountability and responsibility
A report produced by The Good Things Foundation and Liverpool University in 2020 suggests that levels of digital exclusion is much worse than previously thought. As many as 1.2m residents in Greater Manchester could be excluded in some way to access the benefits digital brings and this isn't a problem specific to Greater Manchester. Whose responsibility is it to address the challenges this brings?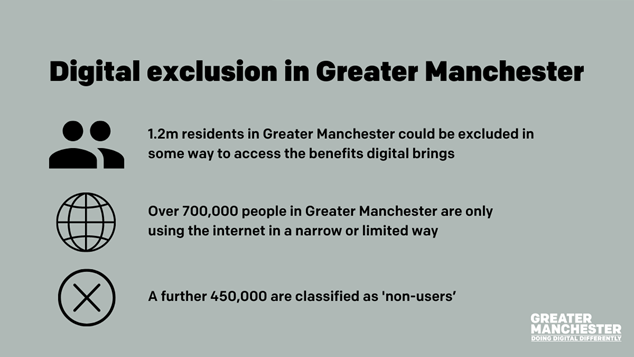 In late March 2020, Telecomms companies and the Government launched a joint package of measures to "support vulnerable consumers", including some "free calls from landlines or mobiles." However, there remains no one standardised approach across the industry, and no approach that includes over-75s in the grouping classed as "vulnerable." GMCA committed to alerting the regulator, Ofcom, to the discrepancy and working with the regular and the big landline providers – including BT, TalkTalk and Virgin Media – to update providers' databases and vastly extend the support on offer to vulnerable customers.
Is digital fit for purpose? The internet and digital technology have the power to transform lives by creating opportunities and providing support where it's needed most. But they also have the power to leave young people behind. Nominet's Public Benefit Strategy is tackling this question through its focus on initiatives that promote greater connectivity, inclusivity, and security. Improving the lives of one million young people.
Digital is a cross cutting fundamental of everyone's daily lives, and it should be addressed as such, the same way social prescribing focusses on 'what matters to me' and takes a holistic approach to people's health and wellbeing.
Change must come from the top and we should continue to challenge Government on the approach to digital exclusion, there are many replicable initiatives out there that could be rolled out UK wide.
The is no one size fits all, we must strive for variety of people lead approach and citizen focussed change, there is still a lot of work to be done but we shouldn't underestimate the work done so far.
Our panel agree a fair ask of communication regulator Ofcom, would be to drive this change, working with all providers cohesive plan to address long term issue of digital exclusion.
Ofcom recently announced plans to open a major new digital and technology hub in Manchester, with the creation of up to 150 new jobs by 2025 - preparing for new duties to help make the internet a safer place – in addition to a new role making sure network firms have adequate cyber security.
---
Article Published: 10/05/2021 15:14 PM