Greater Manchester Cyber Advisory Group
The Greater Manchester Cyber Security Advisory Group reflects the cyber security capabilities of Greater Manchester and drives forward inclusive economic growth for the city-region and the North. The group will provide strategic oversight and a force for inclusive economic growth, taking an ecosystem approach to building that capability and economic resilience.
The group will help us achieve our ambition that Greater Manchester be recognised as a world class centre for cyber security and digital trust, and No. 1 in the UK with strengthened links to similar centres internationally, and define routes to which we can achieve that. We want to:
Become known as a centre for excellence and scale in research
Define routes to a motivated, diverse and high-quality talent pipeline
excellence and scale in commercial and government activity
high levels of innovation across a wide and active ecosystem
a globally recognised reputation for all of the above
The group will guide and inform the activities within the Greater Manchester Cyber portfolio of activities, identify new opportunities and progress, and ensure relevant connections are made across to the other activities within the Greater Manchester digital sector and beyond.  
The role of the group is to bring together representatives of the city-region's cyber ecosystem in Greater Manchester to guide and inform the GM Cyber strategy and work streams. Specifically it will:
Provide aspirational input into the design of GM Cyber activities and capabilities
Initiate, evaluate and prioritise opportunities
Monitor the performance of individual work areas
Align activities across the sector in Greater Manchester
Review and support the resolution of GM Cyber risks and issues.
Provide a means of representing the sector in Greater Manchester to wider stakeholders nationally and globally including to central Government and industry bodies
Raise awareness of priorities, activities and progress across GM by championing initiatives
Escalate opportunities and risks or issues to the GM Digital Steering Group
We're currently taking expressions of interest for a new group chair. Expressions of interest will close Friday 26th May 2023.

Find out more on the application process (Microsoft Word, 66.4kb).
Group membership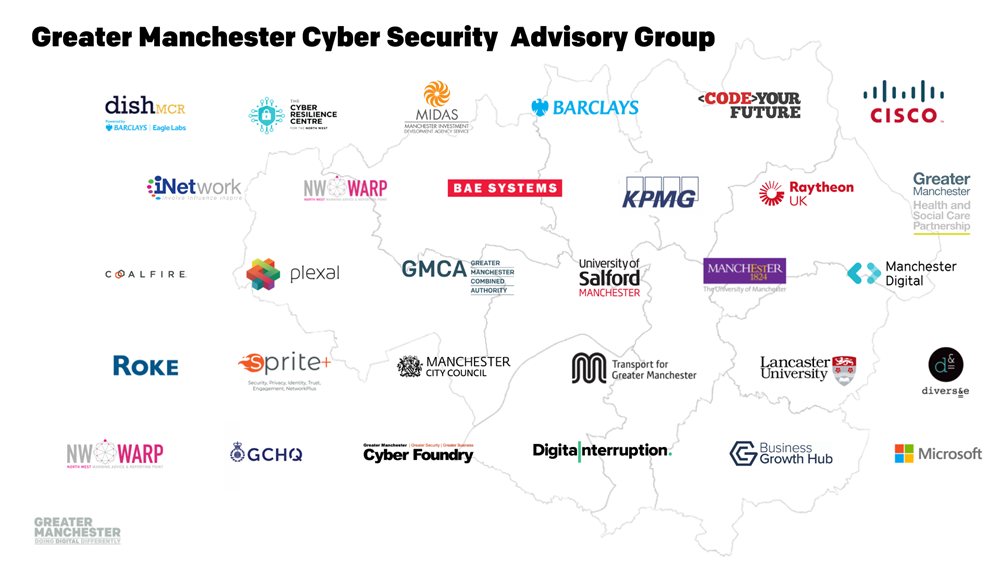 Group insight
Greater Manchester - a global digital influence in cyber
Hear from Cllr Bev Craig, GMCA Lead Education Skills, Work & Apprenticeships, Digital, Prof. Emma Barrett, Professor of Psychology, Security, and Trust at the University of Manchester and Director, SPRITE+, Detective Superintendent Neil Jones, Managing Director, North West Cyber Resilience Centre, Ruby Motabhoy, Innovation Lead, Plexal and Alicia Easley, North West Programme Manager, Code Your Future at Digital City Festival 2022.

Digital discussion - cyber in Greater Manchester
Hear from Barny Dathan, Head of Employability, Code Your Future, Professor Emma Barrett, Director, SPRITE+, and Director, Centre for Digital Trust and Society, University of Manchester and Jared Thompson, Marketing Manager, North West Cyber Resilience Centre on what makes Greater Manchester's cyber ecosystem so different.