Fire Plan
Greater Manchester's first Fire Plan outlines the work GMFRS will undertake to help make our city-region safe. The plan includes six priorities and a number of commitments to residents, businesses and partners across Greater Manchester.
The Plan has been written by Chief Fire Officer (CFO) Dave Russel, Mayor of Greater Manchester Andy Burnham, and Deputy Mayor for Policing, Crime, Criminal Justice and Fire, Bev Hughes.
In addition to the Fire Plan, an Annual Delivery Plan for the Service – Our Plan – outlines exactly how the commitments in the Fire Plan will be delivered. Together, the two plans fulfil the Service's statutory duty to produce an Integrated Risk Management Plan.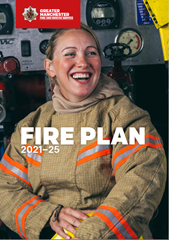 GMFRS Fire Plan 2021-25 (PDF, 1631KB)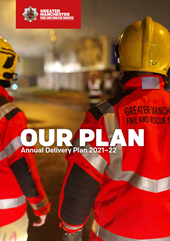 GMFRS Annual Delivery Plan 2021-22 (PDF, 7768KB)
The Plan addresses the impact of major incidents such as the Manchester Arena attack in 2017, the Saddleworth Moor fire in 2018 and, more recently, widespread flooding in south Manchester and Stockport, as well as the 2019 Cube fire in Bolton.
The priorities making up the plan include:
Providing a fast, safe and effective service
Helping people to reduce the risk of fires and other emergencies
Helping protect the built environment
Using resources sustainably while delivering the most value
Developing a culture of excellence, equality and inclusivity
Integrating services in every locality with those of partner agencies.
As the Fire Plan outlines, GMFRS will continue to identify risks to understand where to locate the workforce, while continuing to carry out joint planning and training alongside other agencies to prepare for large-scale and complex emergencies.
New approaches are also being adopted to tackle the way GMFRS respond to emergencies. Following the Saddleworth Moor fire and wide-scale flooding, GMFRS has invested in new vehicles or adapted existing ones, as well as purchasing new protective equipment for firefighters.
During the Christie Hospital fire in 2017, the Service's drone was used to identify pockets of fire spread while lances were used to reach fires burning in the building's cavity spaces. GMFRS has gone on to provide lances to all frontline fire engines, which improves firefighter safety by allowing fires to be tackled from outside a building.
The Fire Plan also forms part the wider Greater Manchester Strategy 'Our People, Our Place', which aims to make the city-region one of the best places in the world to grow up, get on and grow old. GMFRS will integrate working with partners across the city-region to enable this ambition.