Economy: Research
About us
We undertake a variety of analysis to inform the development of strategy and policy, including: economic assessment of Greater Manchester's economy, tracking and monitoring economic performance – for example the Greater Manchester Brexit Monitor, local economic impact assessment, wider analysis of key sectors across Greater Manchester's Economy, trade and export analysis and business segmentation.
This page is dedicated to the work of the Economy Research team, to explore the work of the wider GMCA Economy team, please visit the Economy web page.
Greater Manchester Economy Factbook 
The Greater Manchester Economy Factbook is a comprehensive collection of key facts about the Greater Manchester (GM) economy intended as a reference for Leaders, Policymakers, Analysts and anyone interested in learning about GM's economy.
The data is divided into 6 sections:
Population Demography provides an overview of GM's population.
Economy provides information on economic growth and productivity.
Employment counts provides information on the number of people in employment and jobs counts.
Employment Rates and Earnings provides information on Employment and Unemployment rates as well as median earnings.
Business Demography provides information on GM's business base.
International provides information on GM's international trade.
All data is sourced from publicly available official data and updated on a twice yearly basis.
Greater Manchester Economy Factbook (Tableau, opens in new window)
Economic Resilience Dashboard 
The outbreak of the Covid-19 crisis created the need for more timely monitoring of the economy in Greater Manchester, to provide information and analysis for leaders and policymakers that is as up to date as possible.
The Economic Resilience Dashboard was initially created to monitor the impact of the vote to leave the European Union in 2016. Following the outbreak of Covid-19 it was redesigned to provide up to date intelligence on economic conditions in Greater Manchester during the pandemic and inform our policy response.
During our redesign process we removed sources of data if they were too static to give useful information and searched for sources that were updated more frequently. This led to us using several datasets not traditionally associated with economic resilience but that act as proxy measures for activity or as insights into the behaviour of people in Greater Manchester.
The economic data in response to Covid-19 is changing rapidly with new datasets becoming available and others being withdrawn on a regular basis.  The dashboard is updated with the best available data each month with the resultant analysis described in the Analysis tab. Data is drawn from publicly available datasets as well as data from some of our key partners: Transport for Greater Manchester, The Growth Company and The Greater Manchester Chamber of Commerce.
The data is divided into four sections:
Current Economic Conditions: provides leading indicators on the economy and labour market.
Business and Consumer Confidence: provides measures of confidence in the economy as illustrated in retail spending and responses to national surveys.
Greater Manchester Business Indicators: provides data gathered by GM based organisations on business sentiment and confidence.
Behavioural Insights provides: information on the movement of people across Greater Manchester.
Economic Resilience Dashboard (Tableau, opens in new window)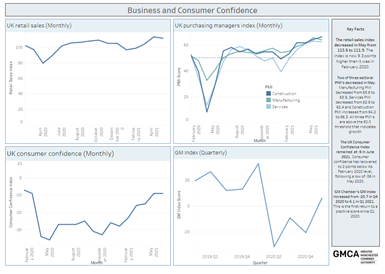 A screenshot from the Economic Resilience Dashboard
Jack James is Lead Analyst for Business and Economy in the GMCA research team. Jack graduated from the University of Manchester in 2015 before going to work in a variety of roles at Lancashire County Council. Following 2 years working in the Executive Director for Growth, Transport and Community Services office at Lancashire County Council, Jack came to GMCA in January 2020
Greater Manchester Business Survey
This is a Greater Manchester-wide survey to understand current and future economic performance by local businesses and to identify the opportunities and barriers to growth they face.