Research: Environment
About Us
The Environment Research Team provides analysis and insight to ultimately support Greater Manchester in improving our environment and reducing carbon emissions. The team supports the delivery of projects across a variety of themes, including low carbon, natural environment, and sustainable production and consumption of our resources.
The Team comprises a Principal, two Environmental Analysts, and an Embedded Researcher from the Environment Directorate. We have a wide range of skills including: data analysis and visualisation; spatial analysis; advanced Excel skills; cost-benefit analysis; natural capital accounting; qualitative research methods and analysis; and evaluation methods. The team have previous experience working in a range of industries including environmental consultancy, healthcare consultancy, local government, wildlife organisations, and academia.
Case Study: identifying sites suitable for renewable energy generation
Greater Manchester has set a target to generate 45MW of electricity through local renewable energy schemes by 2024. To help achieve this, the research team has supported in Go Neutral, a programme to identify, develop, and deliver a pipeline of Smart Energy opportunities via a range of investment and delivery models. We have undertaken data and spatial analysis to identify local authority-owned land and car parks (assets) that have potential to house smart energy technologies such as solar PV (solar panels) and electric vehicle charging hubs. Working with technical experts, we were then able to identify key criteria that each asset must meet to ensure that it is appropriate for such smart energy opportunities; for example, whether the necessary infrastructure is in place to ensure that solar PV-generated electricity can be used by a nearby building. We then developed an excel tool to run each asset against these various criteria and assigned each asset a score, generating a shortlist of potential sites for smart energy opportunities. Local authority partners have worked through this shortlist, in conjunction with the spatial map produced for mappingGM to help with visualisation. Using their local expertise, local authorities have been able to identify a smaller number of assets that could be taken forward to the procurement stage of the project.
Ultimately, this research and the developed tool will help ensure that only assets deemed likely to be suitable for smart energy will be taken to the procurement stage. The efficient and reliable identification of such sites will support Greater Manchester in meeting its 45MW target.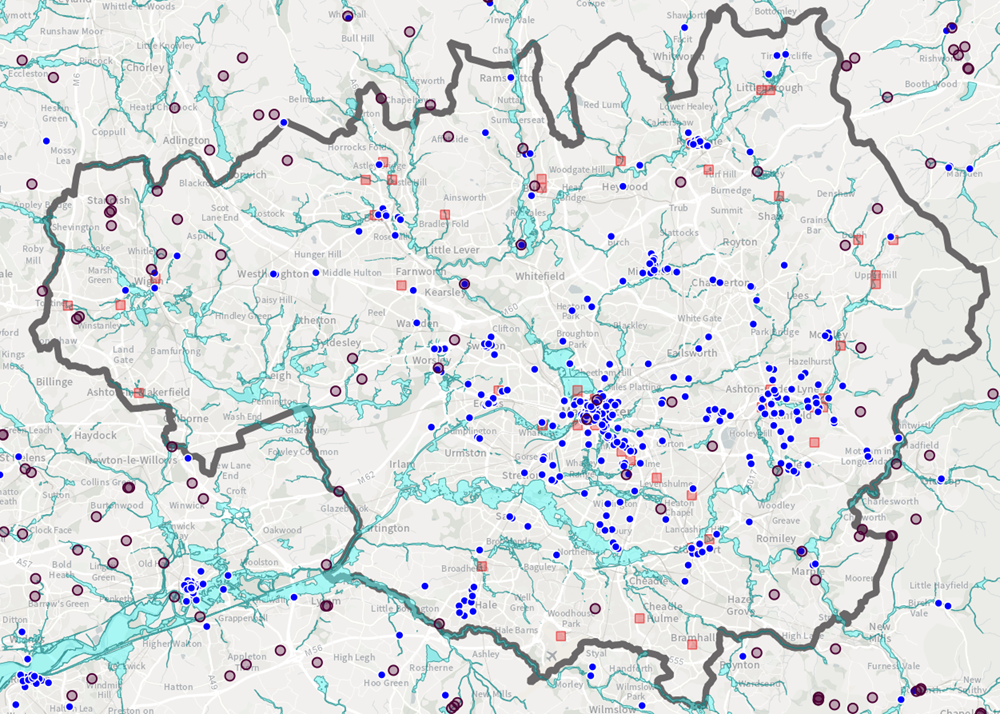 MappingGM. Ordnance Survey © Crown copyright and database rights 2021 OS 100037229