Employer Boards
Embedding Employer Voice
Supporting the Mayor's technical education city region ambitions, Greater Manchester will lead the way in technical education transformation and provide advanced and higher technical skills the UK and GM economies need. GMCA in co-ordination with Greater Manchester Chamber of Commerce, propose to form one board of Industry Leaders to strengthen the position of GMs technical education offer, informed by the GM Local Skills Improvement Plan, and working with core partners to align this offer with the local labour market.
Seven gateway sector leaders will be appointed from the network of 60+ organisations, who support Greater Manchester's ambitions to become an aligned technical education city region and galvanise industry to commit to action.
The application form for membership to the Employer Integration Board is live now on GM Consult - please click here to apply.
The seven leaders will form the Employer Integration Board (EIB) who will support the agenda through providing strategic senior input and expertise, verification of intelligence, and access to wider networks and supply chains. This will determine the approach with the business community to galvanise continuous support for the agenda and create a critical mass of change. A proposed model is below, with change being driven by the Employer Integration Board, through the Industry Supporters Action Network, out to wider sector bodies and the business community at large.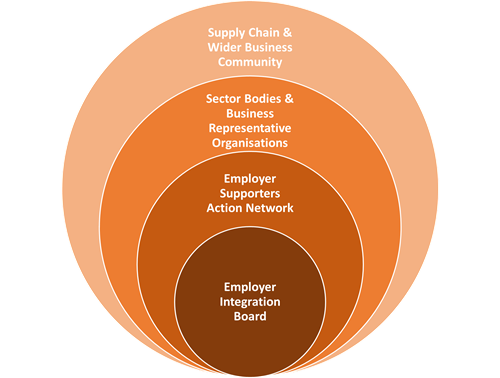 In the first instance, the EIB's work will focus around convening sector bodies, peers, and other employers around 4 aims:
Raise the number of placements for T-levels and apprenticeships.
Support curriculum relevance based on a GM agreed view of skills challenges in the Gateway areas – potentially leading to provision development.
Spearhead the advocacy of the benefits of technical skills and qualifications as a solution to the skills challenges.
Articulate what are the barriers preventing this growth and provision change, creating recommendations for GM's Devolution Board (JOB).
The EIB will be announced in late 2023.