Support for parents, families and young people
On this page there is lots of information, guidance and support for young people in Greater Manchester as well as for those with children at home.
Creative Care Kit for Young People (recommended age 12+)
New version coming soon - watch this space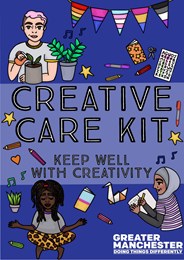 As we continue to combat COVID-19 Greater Manchester Combined Authority (GMCA) is leading on a unique initiative to distribute 22,000 a Creative Care Kit to young people across the city-region receive.
If you would like a copy of the 36 page book from the kit, full of ideas, activities and tips to support wellbeing, you are welcome to download it here.
For all ages, including young people aged 11-30
Kooth is an online platform that provides mental health support for children and young people.
Shout is there for anyone who is struggling to cope. You can send a text at any time to 85258 or find more information on their website.
Home Start provides a variety of resources to help families during the Coronavirus outbreak, including information for pregnant women, how to talk to your children about Coronavirus, and activities to keep kids busy.
Home Start (opens in a new tab)
Manchester City Football Club has games to keep children of all ages active at home.
Cityzens at Home (opens in a new tab)
Resources to help support families during lockdown.
Save the Children (opens in a new tab)

For pregnant women and families expecting a baby
If you are expecting a baby, you can find information about maternity services and care here:
My Birth My Choice (opens in a new tab)

For children under the age of five 
Tiny Happy People has wide range of resources and activities for keeping young children entertained and learning at home.
Tiny Happy People (opens in a new tab)
Greater Manchester's Ten Tips for Talking, is a set of evidence-based key messages for families, early years practitioners and the wider community which promotes interaction between young children and their families, from birth to age 5, to support early years development.
Hungry Little Minds offers simple, fun activities for kids, from newborn to five.
Hungry Little Minds (opens in a new tab)
If your child is due to start primary school, BBC has information to emotionally, socially and physically prepare your child.
BBC Starting Primary School (opens in a new tab)

For children of school age
Greater Manchester Fire and Rescue Service's Training and Development Centre in Bury have created a fire safety in the home workbook for children aged between 7 and 11 years of age to keep children learning at home.
Greater Manchester Fire and Rescue Service (opens in a new tab)
If your children are of school age, please contact their school for advice and guidance. In addition to the work provided by the school, you can find a number of educational resources for primary and secondary age children below.
Online educational resources (opens in a new tab)
An online Home Learning Resource aimed at protecting nine to eleven-year-old children from abuse and exploitation.