THE Deputy Mayor of Greater Manchester has praised a group of Girlguiding members for learning special skills on preparing for disasters and emergencies.
More than 40 Brownies have completed the Duke of Cornwall Safety Award, which has been rolled out in the city-region with the help of Greater Manchester's Resilience Forum (GMRF).
Young people, aged five to 18, have been learning how to respond in the event of an emergency such as severe flooding or a pandemic like Covid-19. Checking on neighbours, making preparations at home, helping at rest centres and learning how to fill a sandbag are some of the skills the young people have developed.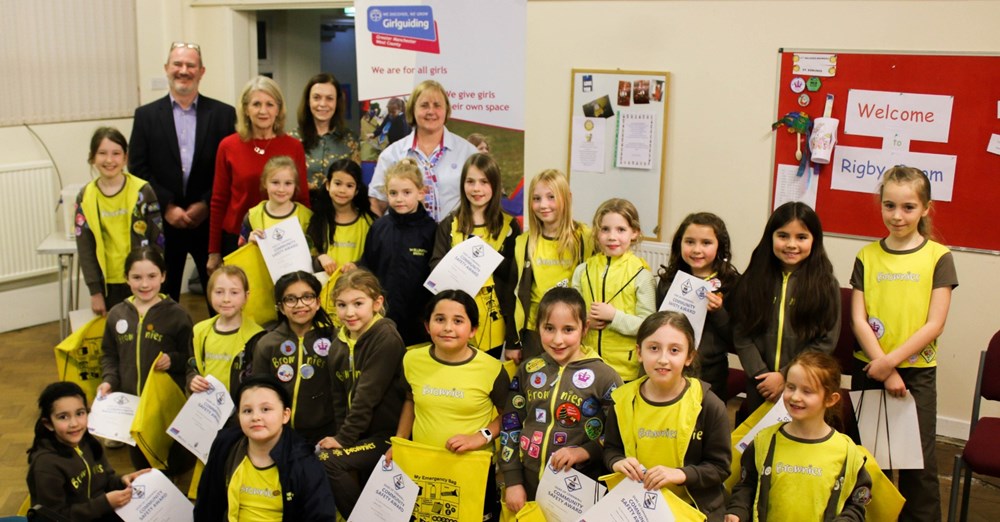 Picture credit: Aisha Barker, Girlguiding Greater Manchester West
A special presentation ceremony took place yesterday (Tuesday 1 March) at St Edmunds Church in Little Hulton, where Deputy Mayor Bev Hughes handed certifications and badges to a total of 46 young people. A group of Brownies also showed the Deputy Mayor emergency grab bags they have put together, to be kept at home in the event of a disaster, containing essential items such as, important family documents such as passports and insurance details, first aid kit, batteries, lists of essential phone numbers, phone chargers, spare keys, battery powered or wind-up radios, cash and coins, prescription details and specific essential items for babies and vulnerable people.
Deputy Mayor for Policing, Crime and Criminal Justice, Beverley Hughes, said: "In recent years, Greater Manchester has had to deal with a number of unexpected and difficult events, ranging from flooding, to moorland fires and the Covid-19 pandemic. Therefore, it is crucial that future generations are properly equipped for whatever may happen, particularly as we become more exposed to new risks arising, such as climate change. We want Greater Manchester to be one of the most resilient places where everyone can grow up, get on and age well together.
"The Brownies in Girlguiding Greater Manchester West have worked very hard to achieve their Duke of Cornwall Award and I hope more young people in the city-region will be inspired to also take on the challenge."
11th Walkden Brownie Leader, Sarah Coackley, said: "The Duke of Cornwall Community Safety Award is very relevant with the storms we have seen over recent weeks. The girls have enjoyed looking up what items they might need to put in a grab bag in the event of a flood and have also learnt that floods can be prevented in some situations. Ignoring a blocked drain or an abandoned trolley in a river could result in houses being flooded. The Safety Award fits in well with the Girlguiding ethos of supporting the community."
The Duke of Cornwall's Safety Award was created after Prince Charles questioned why youth groups in the UK were not involved in the response to disaster in comparison to other countries. In partnership with the Guides, Greater Manchester's Resilience Unit developed resources to help young people learn about preparing for emergencies. Guidance was also given to individual Guide leaders to help them develop activities for their groups such as visits to emergency services, planning escape routes  from home and meeting places, creating emergency contact lists and understanding which organisations are involved in emergency response.
One of Greater Manchester's ambitions is to support communities to become resilient to future challenges. The GMRF is a specialist unit that provides expert civil contingences in the areas of health protection, disaster risk reduction and emergency service response. As part of this, the city-region is working with the Girl Guides and other organisations that work with young people to build resilient communities in the future.
Last year, Greater Manchester was recognised as the first "Resilience Hub" in the UK by the United Nations for its policy and advocacy work in addressing growing climate and disaster risks. The city-region works with other areas and communities to inspire them to become more resilient to disasters.
---
Article Published: 02/03/2022 13:43 PM