Digital
Tackling digital exclusion integral to grow a £5bn digital eco-system
Councillor Sean Fielding has taken a leading role in ensuring that Greater Manchester's £5bn digital ecosystem reaches its potential, including an ambition that the city-region will become a global digital influencer.  

A local lad, having grown up in Failsworth, Sean served his home ward of Failsworth West since 2012 and in 2013 was jointly named the LGiU Young Councillor of the Year. Now 30, Sean became the youngest-ever leader of Oldham Council on appointment in May 2018. 
Already public sector lead for Greater Manchester Combined Authority's Employment and Skills portfolios, Sean added digital to his belt earlier this year and is clear in his intentions that Greater Manchester is 'doing digital differently' putting people at the heart of our plans and ensuring that the benefits of a digital region reach all of our communities. 
What does Greater Manchester mean when it says it wants to do digital differently?
The Greater Manchester Digital Blueprint sets out the vision for Greater Manchester to be a world-class leading digital city-region, centred around empowering businesses and people in the region. 
The COVID-19 pandemic has highlighted the UK's digital divide - it has amplified social isolation and loneliness, particularly for the most at risk groups such as older people and those with serious health conditions who continue to isolate themselves.  
Inequality has been a problem in Greater Manchester for a long time, says Sean, but a recent report from The Good Things Foundation and Liverpool University suggested that levels of digital exclusion are much worse than previously thought. As many as 1.2m residents in Greater Manchester could be excluded in some way to access the benefits digital brings, with over 700,000 people in Greater Manchester only using the internet in a narrow or limited way and a further 450,000 classified as 'non-users.' 
Starting with our young people
We're already taking action in this space, investing heavily and partnering with the private sector for high impact, collaboration that we think is vital to tackling digital inequity across the region. 
We worked with Vodafone to maximise the uptake in Greater Manchester of their schools.connected initiative – support in the form of data SIMs for pupils who find it difficult to access education from home because they don't have the right connectivity.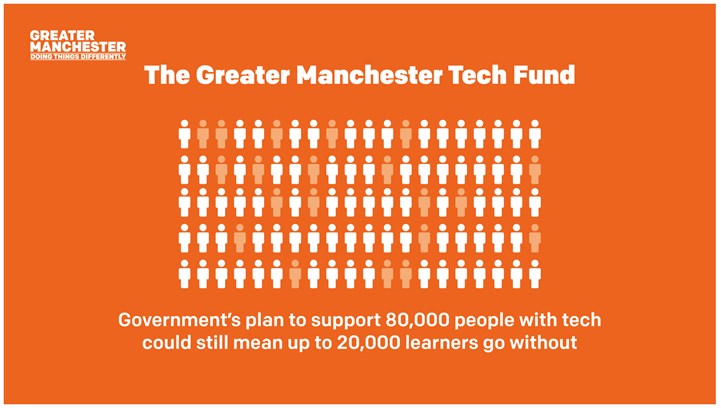 And in early 2020, when schools first closed, we partnered with Virgin Media Business to co-fund Phase 1 of the Greater Manchester Technology Fund and Phase 2 of that fund has just launched. The fund provides learners at risk of digital isolation with the technology and connectivity needed to continue their learning at home while schools and colleges remain closed.  
It is estimated that levels of digital exclusion are up to four times higher amongst those schools with the highest level of pupils eligible for a free school meal, with 19% of pupils in Greater Manchester claiming free school meals and Phase 1 of the fund initially focussed on recipients of free school meals, we know this was a small drop in the ocean and so we hope Phase 2, which is currently actively seeking donations, will reach further.
The fund is a great example of the social value commitments we want our partners to make – Phase 1 Tech Fund investment came via our appointment of Virgin Media Business to deliver up to 2,700km of new fibre optic broadband infrastructure across the region, the Local Full Fibre Networks (LFFN) Programme will connect thousands of public sites across the city-region. When this contract was being developed, there was huge emphasis on collaboration and services designed to serve the majority as well as our future generations – a refreshingly new approach to investing in infrastructure. Having the right infrastructure that considers where we are now, but also where we will be in 30 years' time is vital, especially when we consider the unprecedented rates of digital transformation we have seen this year. This future-proofed connectivity supports the work we are doing in Greater Manchester to make public sector services more efficient and sets a standard to better ways of doing.  
The deal also includes a number of other social value initiatives, such as a commitment from Virgin Media Business to directly create 20 apprenticeships based in Greater Manchester, as well as investing in digital and STEM skills for young people as apprenticeship opportunities enable people to find full time work, while also giving them the necessary skills to develop their careers. 
And that isn't just a one-off says Sean, additional investment for the Tech Fund has come from ANS Group, suppliers the GMCA are already working with through early years work across the region – another exemplar of public and private sector collaboration.  
Along with developers Objectivity, ANS Group, and Shaping Cloud, the latter two being Greater Manchester based, we worked with various public sector organisations across local government and health and social care to launch a new, first of its kind application, allowing parents and carers to access information and support for their child whenever they need it.  The app means that paper-based assessments used to review a child's development up to the age of 2.5 years are now digitised. During the COVID-19 pandemic the app has reduced the need for physical appointments, meaning these children and their parents have remained supported.  
The app is transforming the way health information is delivered and shared in Greater Manchester. It's also a great example of digital can address a real user need. School readiness figures in Greater Manchester are lower than the national average, with almost two in every five children not reaching a 'good' level of development by the age of 5. This increases to one in every two children for recipients of free school meals.  
The new system is helping health visitors to identify developmental issues earlier and provide support for the child and their families quicker than current methods. It will also free-up valuable clinical time for health visiting teams - thought to be worth around £10m per year in productivity once rolled out to the rest of Greater Manchester but most importantly we're allowing parents to login and see their child's development records at any time – we believe we need to give people much more control over their own data, who's seeing their data and for what purpose. 
Vikki McClung, Health Visitor for the Radcliffe Team, in the Bury and Rochdale Care Organisation said: "The Early Years App will empower parents to access everything they need to support their child's development in one place. 
"This is especially important during the current COVID-19 pandemic as it reduces the need for physical contact. It also provides a seamless and really integrated process which will bring all partners together including health, education and most importantly the families to make sure every child is ready for school". 
Strengthening our
 digital talent pipeline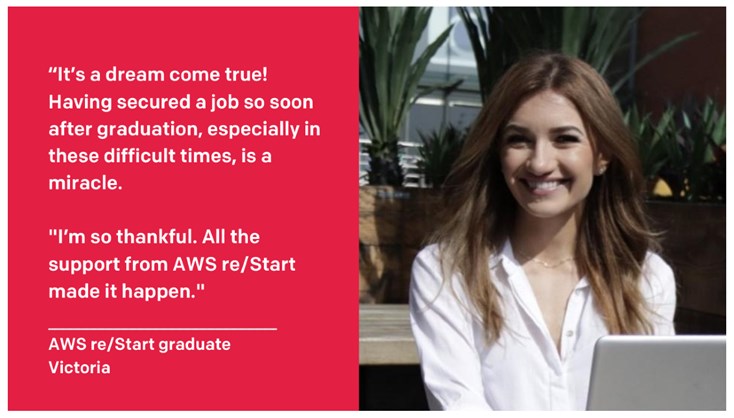 The Fast Track Digital Workforce Fund is a joint venture between the GMCA, Department for Digital, Culture, Media and Sport and Lancashire Digital Skills Partnership , developed to address locally identified digital skills gaps and support Greater Manchester and Lancashire residents with accessible routes into digital employment. Over the last 18 months the Fast Track Fund has helped unemployed and underemployed residents find meaningful employment locally with accessible opportunities for groups like women and ethnic minorities that tend to be underrepresented in the digital industry.  
One of those success stories was AWS re/start, who received Fast Track Funding in April 2019. The training scheme was established to prepare individuals for entry-level cloud positions. Victoria Lucaci, who is originally from Russia, was doing some casual work in a call centre and studying web design in the evenings before she started AWS re/start.  
Following her graduation Victoria successfully gained employment as a Trainee AWS Engineer at Oxbury Bank. On landing her dream job, Victoria said: "It's a dream come true! Having secured a job so soon after graduation, especially in these difficult times, is a miracle. I'm so thankful. All the support from AWS re/Start made it happen!"
The impact this could have on the future of our young and isolated is enormous. There is a hunger to upskill and learn across the country, as more than half a million people in the UK learned a new digital skill in the last three months by taking free online learning courses. This is no different in the Greater Manchester region. But if these people do not have access to the IT equipment, high-quality connectivity, and software they need to improve their digital skills, they will struggle to improve their tech literacy, further education and employability prospects. 
Where 
our 
opportunities for digital growth in Greater Manchester
 lie
We're in a really good place for digital right now, we've seen rapid growth since March and transformations that usually would have taken years, happening in months. The real challenge is how we ensure our digital ecosystem works together and is for our people, I believe Greater Manchester is really well placed to achieve that. 
Some of that rapid growth we have seen recently has truly been built to meet individual needs and we must continue on that path. I'm proud to lead a region with an intention that Greater Manchester be a 100% digitally enabled city-region, through the Digital Inclusion Agenda for Change. Through that agenda, we recently launched a Digital Inclusion Taskforce, with over 150 attendees at our first meeting in October the group aims to address the barriers of digital exclusion and the digital divide, in a co-ordinated and focussed way, informed by local needs and sharing learning, resource and expertise.
Access to the digital world should be a basic human right, everyone in Greater Manchester whatever their age, location, or situation, should be able to benefit from the opportunities digital brings. Digital marginalisation faces the poorest, most vulnerable communities, we must do all we can to support our people. 
---
Article Published: 14/01/2021 15:10 PM