Work and Skills
Taxi-driver tour guide says free programme in Greater Manchester has helped his business flourish
EnterprisingYou is a free service available to all self-employed residents in Greater Manchester aged 18+ who would benefit from support
Self-employed people have praised the service for helping with adapting their businesses following the impact of Covid-19
Business coaching, mentoring, courses and training on offer as part of the EnterprisingYou programme
A tour guide has praised a free support programme available to self-employed residents in Greater Manchester for helping him to adapt his business following the impacts of Covid-19.
John Consterdine, of Prestwich, gives tours of Greater Manchester from the comfort of his electric taxi. He first launched the business in 2008 and it has been a success ever since, with John's business offering music, sport, Coronation Street themed tours – and there is even an option to enjoy an afternoon tea from Slattery's while sat in the back seat.
However, following the Covid-19 pandemic John's business was struggling and he was unable to operate tours during lockdown. He was advised to sign up to the EnterprisingYou programme, which is available to self-employed people aged 18+ in Greater Manchester. John has since implemented changes to his website following a digital marketing course and has learned how to use social media to promote his tours.
The programme is free and provides support to business owners through the provision of a personal Business Coach. The service also provides specialist support in a variety of different areas such as personal finance, health and well-being as well as mentoring.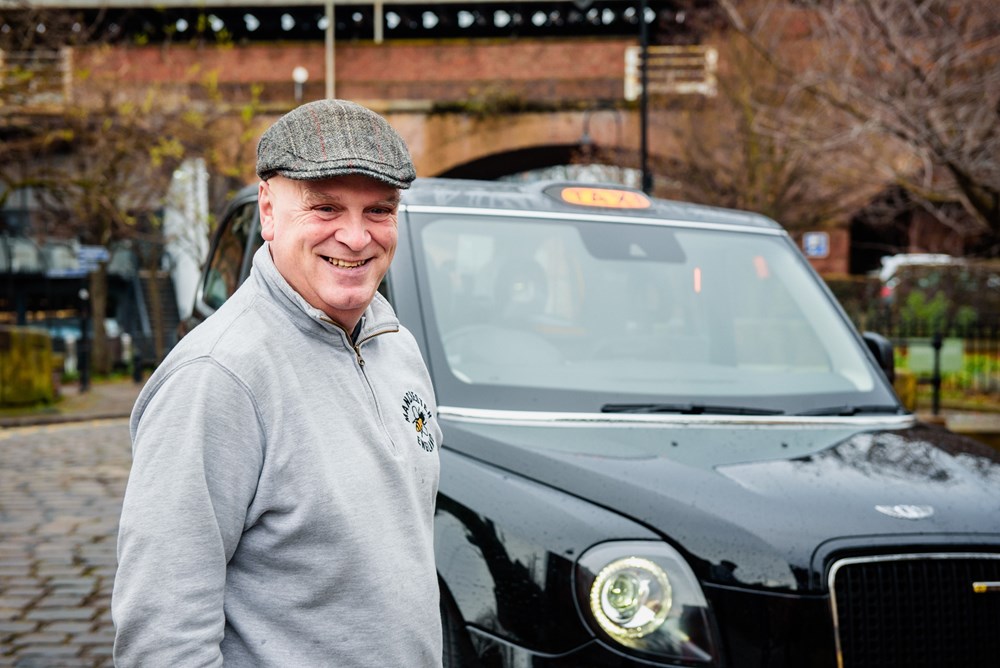 John said: "In 2019 I ran 300 tours and changed my vehicle to an electric taxi. In January to February 2020 I was busy, but in March Covid decimated my business.
"I was recommended to apply for EnterprisingYou. I started doing it in January this year and now I am near to the end of the course. I was given a business coach, I've completed courses on digital marketing, Instagram, health and wellbeing and I'm doing one soon on LinkedIn.
"The whole experience has been fantastic, it has been really well organised. You never hear the word 'no'. It is so useful, easy to access and it is all free. Why wouldn't you do it? You get a fresh pair of eyes to look at your business.  Your business mentor is available as you want."
EnterprisingYou has continued to run throughout the pandemic and is the first of its kind in the country. It was commissioned by Greater Manchester Combined Authority (GMCA), with funding the Department of Education (DfE). Hundreds of small businesses have already received support during these difficult times.
Councillor Andrew Western, GMCA lead for Digital, Work and Skills, said: "We know the coronavirus pandemic has been difficult for many self-employed people in our city-region. As the economy reopens again many will be requiring help with getting back up on their feet.
"In Greater Manchester we are always happy to step up and offer support when needed and EnterprisingYou is one of the many great examples of what we're doing to support or business community.
"The programme is entirely free, and as well as the business support on offer it also provides support in terms of wellbeing. I urge self-employed people in our city-region to please take this offer up and develop the skills to help their businesses to thrive."
The EnterprisingYou businesses coaches are on hand to nurture each client through the programme, give advice on how to access support available and to help self-employed people not just recover from Covid-19 but also equip them with vital skills to successfully run their businesses in the future.
For more information on EnterprisingYou and eligibility criteria visit www.enterprising-you.co.uk
---
Article Published: 03/09/2021 09:40 AM