Culture
The GMCA Culture team will oversee the development and delivery of an ambitious, over-arching strategy for Culture, Arts and Leisure, which will play a pivotal role in delivering a range of Greater Manchester Strategy priorities. 
This will focus on:
The articulation of Greater Manchester's distinctive cultural voice and ambition, building on our reputation for cultural innovation, boosting our economy and giving Greater Manchester profile on the national and international stage
Enriching the lives of Greater Manchester residents by enhancing, promoting and opening up to all, our cultural offer
Supporting residents to improve health and well-being through a stronger and more responsive cultural offer
To achieve our ambitions, by April 2020, Greater Manchester will have:
Increased the value and scale of Greater Manchester's visitor economy
Implemented the GM Cultural Investment programme and Great Places project to substantially increase cultural engagement.
By October 2018, Greater Manchester will have:
Delivered a quality tourism offer, including the development of new products, to remain competitive and continue delivery of innovative targeted national and international campaigns
Developed and began delivery of a marketing plan which sets out the delivery actions and performance measures
Developed a Greater Manchester Cultural Strategy 
Town of culture programme developed
Established a Greater Manchester Culture Partnership
Greater Manchester Music Commission
The role of the Greater Manchester Music Commission will be to support and promote music in Greater Manchester, and will:
Identify opportunities to develop talent and audiences within the Greater Manchester music ecology, as well as its prominence, reputation, and success both nationally and internationally
Identify areas requiring intervention
Prioritise these opportunities and challenges within the context of the local financial/political/health, etc. landscape
Develop specific actions, interventions and programmes to present to GMCA
Provide oversight of StreamGM, the not-for-profit ethical streaming service designed to provide a global platform for GM talent
Investigate ways to promote music from Greater Manchester around the world, including investigation of the feasibility of a globally-significant music industry event in Greater Manchester.
Find out more about the Commission
Mayor's Music Artist of the Month
A Social Glue
Commissioned by the Great Place project in Greater Manchester Combined Authority and authored by Dr Clive Parkinson, A Social Glue sets out how culture and creativity contribute to the health and wellbeing of the people of Greater Manchester and how the time has never been better to champion and expand this agenda.
Read the 'A Social Glue' report (Manchester Institute for Arts, Health and Social Care)
Creative Care Kits for young people - new edition available
The Creative Care Kits initiative is led by GMCA and since June 2020 has seen around 22,000 Creative Care kits (first edition) distributed to young people who are not online, and so may have been feeling more isolated and lonely as we entered the COVID-19 pandemic.
Each kit contains 36 pages of activities, hints and tips on protecting young people's mental wellbeing and a set of art materials. As well as giving young people something to do, the kits helped to create a sense of connection at a time when they are were not able to rely on face-to-face interactions.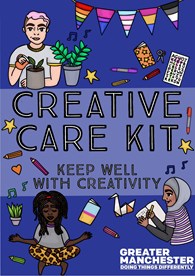 Front cover of Creative Care Kit
(first edition)
Download the first edition Creative Care Kit booklet (PDF, 4.6MB)
Read press release about first Creative Care Kits launching on GMCA's website
New for autumn 2020 - Creative Care Kits for young people second edition
The second edition Creative Care Kit for young people builds on the first version, but with a more of a focus on the kinds of things young people can do to get their voices heard, make changes for the better in their communities, and to find and act on their own passions.
The kit is designed for 13-20-year-olds, particularly those who face challenges accessing online resources and who need extra support at the moment.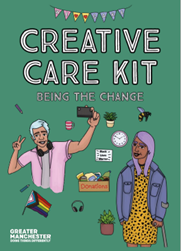 Front cover of Creative Care Kit
(second edition)
Download the second edition Creative Care Kit booklet (PDF, 4.6MB)
If you received the first Creative Care Kit, you'll notice that this time round we have doubled the amount of content in the book, rather than sending out supporting art materials. The latest kit is split into three themes: Being in the World, Being Myself and Being the Change. Each section includes activities to introduce and explore each topic, real life experiences of young people, and information about how you can get involved.
For many young people, life today isn't what they expected it to be a year ago. But as well as acknowledging missed opportunities and disappointment, we also have a chance to do things differently for ourselves and in the wider world.
This kit is full of ideas, stories and activities, which at the very least will help you pass the time and may even inspire you to be the change you'd like to see in the world.

Creative Care Kits and other useful resources, information and support on offer to young people will be highlighted as part of the work carried out by Greater Manchester's Youth Task Force as a Guarantee for young people is developed.

The Youth Task Force was set up to help young people in Greater Manchester, aged 11 to 30, feel more positive in what is a challenging and difficult time for many and these new Creative Care Kits are directly linked to key priorities of the Task Force's Keeping Connected and Staying Well groups.
You can find out more about this fantastic work on the YPG section of this website.
We would love to get your feedback, hear your ideas and see what you make or do. You can use social media to do this: @GM_Culture #GMcreativekits or by emailing: CultureTeam@greatermanchester-ca.gov.uk.
Culture Steering Group
The great and good of the local and national cultural sector are being brought together to form the Greater Manchester Culture Steering Group who will guide work being done to help support and help the culture, arts and heritage sectors across Greater Manchester. 
More information on the steering group and who is a member.
Greater Manchester Music Review
Working alongside UK Music and a panel of experts, Mayor of Greater Manchester Andy Burnham has set up a Greater Manchester music review to see how the city-region's thriving scene can be nurtured, encouraged and refreshed. The review will look into Greater Manchester's musical strengths, as well as where the music scene can be improved, ensuring that artists are supported to develop sustainable careers where everyone can access music in a safe and inclusive way.
Read more about the Greater Manchester Music Review, including the recommendations report working with UK Music
A green-city region and a high quality culture and leisure offer for all
Linking in with the ambitions of the green-city region, Greater Manchester will offer a vibrant, stimulating environment for people to live, work, study and play, supported by a world-class cultural and leisure offer. 
Greater Manchester Moving
Mayor of Greater Manchester, Andy Burnham has endorsed the four-year plan to get Greater Manchester Moving. He has committed his leadership to the ambitious plan, as part of a collaborative approach with Greater Manchester Combined Authority, Greater Manchester Health and Social Care Partnership and Sport England.
United We Stream – Solidarity Fund Application
United We Stream (link opens in a new tab) is a fund set up by Greater Manchester's Night Time Economy Adviser, Sacha Lord, and the GMCA Culture team. The fund is to provide seed funding to help people and organisations in Greater Manchester's cultural and night time industries to adapt and innovate, under the challenging circumstances posed by the Covid-19 pandemic. Applicants will be asked how United We Stream funding could help them or their business to adapt to social distancing and lockdown measures related to COVID-19.
To be eligible, you must:
Be a Greater Manchester-based individual or freelancer working in the cultural or night time economy sector, or;
Be applying on behalf of a Greater Manchester-based venue, bar, restaurant or cultural organisation.
We are pausing applications to the United We Stream Solidarity Fund for a time while we work through the remaining applications we have received. Thank you for your continued support and we hope to be back soon.
Other links