CASE STUDY: Helping Wythenshawe residents develop their digital skills
Helping Wythenshawe residents develop their digital skills
Wythenshawe Community Housing Group (WCHG) provides homes for more than 29,000 people in Wythenshawe, South Manchester. Their purpose is to provide good quality homes and services to their tenants and leaseholders and to play a leading role in creating safer, healthier communities. 
Wythenshawe Community Housing Group's Digital Inclusion Officer runs free training support sessions at several locations around Wythenshawe. These sessions include drop-in computer classes, basic digital skills training and sessions supporting residents to complete benefits forms, Universal Credit and Visa applications online. The sessions are also there for those people who don't have access to a computer to complete everyday tasks like online shopping, booking tickets or developing a CV.
Wythenshawe Community Housing Group, deliver these training sessions in their IT Suite's at Benchill Community Centre and a number of other venues across Wythenshawe. They have now run their UK Online Centre for well over 10 years and have been an International Certification of Digital literacy test centre for over 15 years.
Covid-19
Throughout the ongoing Coronavirus Pandemic, WCHG kept their sessions running via email, zoom and phone. At the height of lockdown, they ran three Zoom sessions per week for older learners, one of these being a weekly 'pub quiz' where learners up to their nineties logging on to enjoy the social element and keep in touch.
Service user's stories
Wythenshawe Community Housing Group's Digital Inclusion Officer has shared some service user's stories and experiences to demonstrate the impact their digital inclusion service provides to Wythenshawe residents.
Ed's story: "Ed has been in hospital for two months and had a triple by-pass operation. He got let out of hospital on the Saturday and he was back in the IT Suite on the Tuesday. He normally comes into book and print out train and plane tickets, send emails to his family, search the internet and put in his predictions for our predictor league. He lives on his own and one of the highlights of his week is coming to socialise with the other learners."
Ali's story: "Ali one of our learners, who was originally a refugee has been a frequent visitor to the IT Suite. He recently came in on a regular basis to go through his driving test theory practice and passed his theory test just before Christmas. Our team also helped him to organise broadband for his home, after he received his permission to stay in the country. He also came in recently for support to help him complete application forms for passports that he needed to fill in online with the High Commission of Bangladesh in Manchester. Now Ali has broadband he does most things at home, he does occasionally show his face for support with things he needs a bit of help with.
To demonstrate how becoming digital included following digital exclusion, Wythenshawe Community Housing Group commissioned an illustrator to visually share the stories of their service users including Dorothy, Pat and Gale and Noel.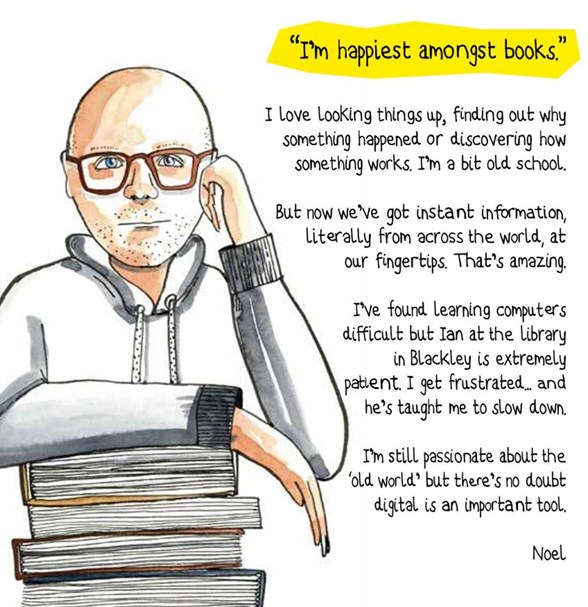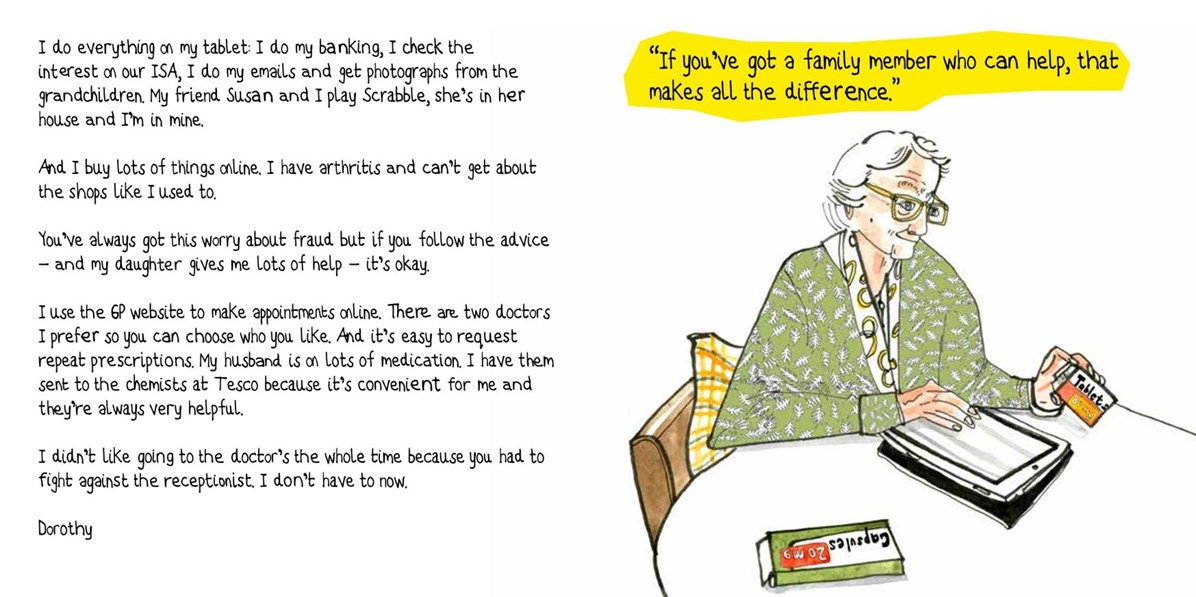 Find out more about the work Wythenshawe Community Housing Trust do (external link opens in new tab)
Read more Digitober content (internal link will open in new tab)