Understanding gambling related harms
Gambling is often described as a hidden harm, given we now know this affects one in 15 residents in Greater Manchester, we can no longer allow it to be an overlooked harm. For the first time ever, our strategic needs assessment brings together the best available local and national evidence to describe the extent and impact of gambling related harms in Greater Manchester.
Harms associated with gambling include mental ill health, relationship breakdown, poor performance at work or school and financial difficulties. Harms may be experienced by the person who gambles or by family, friends and colleagues of someone who gambles ('affected others'). Gambling may not be the sole cause of these harms – in some cases gambling may be a used as a coping mechanism – however we know that gambling disorder can exacerbate existing vulnerabilities. Harms can accrue very quickly, but we know that recovery can take a long time, with some harms leaving an intergenerational legacy.
Headline findings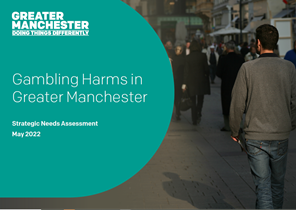 To learn more about the extent and impact of gambling related harms in Greater Manchester, view the full needs assessment (PDF, 49MB).
Supporting documents
The following documents are available to provide further insight into the methodology used 
We are grateful to the residents of Greater Manchester for bravely sharing their experiences of gambling and the lasting impact this has had on them and their loved ones. These stories illustrate the reality of gambling related harms behind the statistics.
In 2021 Public Health England has published a comprehensive review of evidence looking at the impact of gambling related harm in England. 
Where can I find out more?
Training resources
Resources are available to build your knowledge and understanding of gambling disorder, how you might identify someone experiencing gambling related harms and what support you can offer. These resources are suitable for people in professional, volunteer and community roles, and may be tailored to suit your specific needs.
The Greater Manchester Combined Authority has partnered with Gambling With Lives to develop a series of interactive resources for people work in health and other public services. These will be available later in 2022. If you want to be involved in the development of these resources, please get in touch.
Podcasts and media
There is a huge wealth of expertise and knowledge about gambling related harms coming from within the community of people who are speaking out about their lived experience.