Trade
In 2019, Greater Manchester's exports totalled over £14.9bn, equating to approximately 18% of our total GDP, supporting over 100,000 jobs across the city-region.
Businesses that export more are likely to have higher productivity than those that do not and improving Greater Manchester's export performance will support the city-regions productivity growth.
The GMCA works closely with the Department for International Trade, Greater Manchester Chamber of Commerce, and the Business Growth Hub to ensure current and potential exporters are reaching their full potential.
Greater Manchester's plan for how we will work in partnership with government and partners locally is outlined in the International Strategy and the Greater Manchester Export Plan published in partnership with the Greater Manchester Local Enterprise Partnership and Department for International Trade.
Greater Manchester Export Plan
Bringing together UK Government, local authorities, and strategic partners in the city-region. Greater Manchester aims to grow its £15bn of export value by support new and existing exporters to identify sector and market opportunities internationally.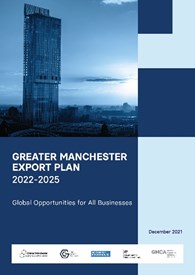 Greater Manchester Export Plan (PDF, 12.5MB)
This document is partially compliant with WCAG 2.1AA. Outstanding issues will be remediated no later than 30 April 2022.